Delhi cops bust international crime fraud racket, three held
Jan 28, 2023 12:40 AM IST
A key Indian operative of the syndicate named Vikas Malhotra, who was previously booked in 10 crimes, including rape, in Delhi, is operating from Georgia and has a base in Dubai as well, police said, adding that a lookout circular (LOC) has been issued against him
The Delhi Police on Friday said they have arrested three men from Delhi and Haryana and uncovered a cyber fraud syndicate, being operated from China with links in Dubai and Georgia, that allegedly duped over 11,000 job aspirants in India of crores of rupees in the name of providing them part-time jobs with online retailing giant Amazon.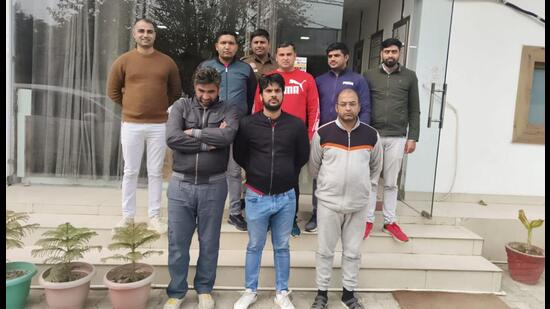 The arrested men have been identified as Abhishek Garg, 40-year-old resident of Gurugram, Satish Yadav,36, from Delhi's Najafgarh, and Sandeep Mahla,32, from Fatehabad in Haryana.
A key Indian operative of the syndicate named Vikas Malhotra, who was previously booked in 10 crimes, including rape, in Delhi, is operating from Georgia and has a base in Dubai as well, police said, adding that a lookout circular (LOC) has been issued against him.
A fake website, similar to that of Amazon, was created by the fraudsters operating out of China, police said. They, in connivance with their counterparts in India, Georgia and Dubai, were using various social media platforms such as YouTube, Instagram, Telegram and WhatsApp to promote themselves as job providers.
The cyber crooks offered part-time jobs with lucrative salaries so that job seekers easily fell into their trap and lost money.
Police said the gang hired bank accounts of individuals to receive the money siphoned from job seekers and further routed them abroad using Crypto, Razor Pay and other apps, said deputy commissioner of police (outer-north) Devesh Kumar Mahla.
"There was transactions amounting to ₹5.17 crore in a single day in one of the bank accounts that we came across during the investigation. The syndicate has been operating for more than a year. Currently, we have freezed seven bank accounts having ₹15 crore in them. The arrest of the three fraudsters is just the tip of the iceberg," said the DCP.
Police said Garg, a financial and cost consultant by profession, earlier worked as a deputy manager at an Indian digital payments and financial services company. The bank account having transactions of ₹5.17 crore was being handled by him.
Garg was also providing technical support to Malhotra and was in contact with him for the past 10 years, said the DCP.
According to the police, Yadav is a graduate from Delhi University and has worked in several renowned IT companies. His role in the syndicate was to connect the mastermind of the racket using mirroring apps and give the mastermind access to OTPs.
Sandeep Mahla provided his bank account for routing the defrauded money abroad, the police said.
The police said the arrests were made following an investigation into a cheating and fraud case registered by the cyber cell of outer-north police district on a complaint given by a woman from Rohini, who was duped of ₹1.18 lakh in September on the promise of a part-time job.
Investigators collected details of the bank account in which the woman had transferred the money. The account details were examined and it was found that over ₹5.17 crore was credited in it on September 22 itself. The money was further routed to different foreign accounts through crypto currency, the police said.
"The phone number linked with the account was in the name of Satish Yadav, who was arrested from Najafgarh and the cellphone was seized. His interrogation led to the arrest of Garg from Gurugram and Sandeep Mahla from Fatehabad," added the DCP.
Emails sent to Amazon seeking a comment on the matter, did not elicit any response.