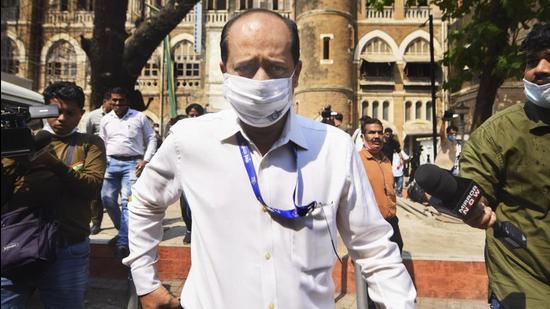 Sachin Vaze transferred out of Crime Branch to Mumbai Police CFC
Vaze is facing allegations in connection with the suspicious death of Thane trader Mansukh Hiran after a Mahindra Scorpio in Hiran's possession was found parked near industrialist Mukesh Ambani's residence on February 25 with 20 loose gelatin sticks and a threatening letter
By Manish K Pathak
PUBLISHED ON MAR 12, 2021 11:52 AM IST
Assistant police inspector Sachin Vaze has been transferred from crime intelligence unit (CIU) of the Mumbai crime branch to Citizen Facilitation Centre (CFC) of Mumbai police.
Vaze is facing allegations in connection with the suspicious death of Thane trader Mansukh Hiran after a Mahindra Scorpio in Hiran's possession was found parked near the residence of industrialist Mukesh Ambani on February 25 with 20 loose gelatin sticks and a threatening letter.
A senior IPS officer confirmed the development and said, "The CFC is located within the Mumbai Police headquarters, on the ground floor of the new building, and the unit handles grievances of citizens and various licenses issued by Mumbai Police and other public-related services."
Also Read | Vaze row: Shiv Sena slams Opposition ruckus in legislature
The process of the transfer started after leader of Opposition Devendra Fadnavis raised the issue of Hiran's suspicious death in the state assembly. He alleged that Vaze had used the same Scorpio found near Ambani's house months before the incident, and sought Vaze's arrest. Home minister Anil Deshmukh then announced the officer's transfer in the legislative council on Wednesday.
A day after the Scorpio was found parked on Carmichael Road, Deshmukh released a video statement stating that the Mumbai crime branch would investigate the case. Vaze, who was heading the crime intelligence unit, took the lead in the investigation.
The Scorpio was traced to 48-year-old Hiran, a Thane resident, who had reported the car stolen on February 18. Hiran was called in for questioning by several agencies and he said that he had registered a complaint that the SUV was stolen under the jurisdiction of Vikhroli police station between the night of February 17 and February 18.
On March 4, Hiran died in mysterious circumstances: his body washed up on a creek in Thane district, his mouth stuffed with handkerchiefs and covered with a scarf, and all his personal belongings, including his ring, chain and wrist watch, missing from the body.
Three days later, Hiran's wife, Vimla (43), gave a statement to the Maharashtra Anti-Terrorism Squad investigating team that she was certain Hiran had been murdered, and she suspected Vaze had a hand in it. Her statement revealed that Hiran knew Vaze well, and that he had lent him the Scorpio in question in November. Vaze returned the car on February 5.
Close