Air quality in Delhi almost back to normal after 5 days
While the Air Quality Index has come down to 'poor' from 'severe' level in Delhi, the concentration of dust particles that had shot up eight times above the safe standard has come down to around three times above the limits on Sunday.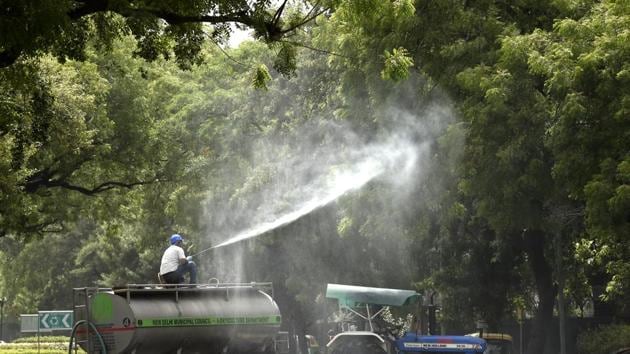 Updated on Jun 17, 2018 11:32 PM IST
Delhi's air quality is back to normal after almost a gap of five days. While the Air Quality Index (AQI) has come down to 'poor' level from the 'severe' level, the concentration of dust particles that had shot up eight times above the safe standard has come down to around three times above the limits on Sunday.
Meteorologists said that it was the change in wind pattern that helped in cleaning Delhi's air. On Sunday, several parts of Punjab and Haryana also received rain, which helped the suspended dust particles in the air to settle down. This would help to further clean the air in Delhi and NCR, they said.
Rain in some NCR areas on Sunday helped the suspended dust particles to settle down. This helped to further clean up the air. The winds coming from rain-soaked regions also helped to bring down Delhi's day temperature.
On Sunday the maximum temperature was recorded to be 36.8 degrees Celsius which was three degrees below the normal. The minimum temperature was 28.2 degrees Celsius, which was normal. Meteorologists said that some parts of Delhi could also receive a drizzle on Monday morning.
"But the relief from the scorching heat could be temporary as it could shoot up to around 43 degrees by the middle of this week again," said an official of the local meteorological department.
Central Pollution Control Board (CPCB) data stated that on Saturday the level of PM10 was hovering around 539ug/m3, which was five times the safe limit of 100ug/m3 as prescribed in the National Ambient Air Quality Standards. On Sunday the level dropped to around 339ug/m3. It had shot up to 840ug/m3 on Wednesday.
"Atmospheric dust particles are usually not toxic. But minute and toxic pollutants coming out of vehicles, industries and power plants cling on to the larger dust particles and make them toxic," said Anumita Roychowdhury, head of air pollution and clean transportation program at Centre for Science and Environment said.
The alarming situation had prompted the Lieutenant Governor (l-G)?Anil Baijal to ban construction activities till Sunday. The North and East Delhi municipal corporations suspended the extra classes in their primary schools from Saturday.
"The AQI on Sunday was recorded to be 289. The last time it was below the 300-mark was on June 12 when it was 296. The AQI had shot up to 447 on Friday," said the CPCB official.
On a scale of 0 – 500, an AQI value above 400 is considered to be severe and between 200 and 300 it is said to be in the poor category. Delhi's pollution level usually remains in the poor and moderate category during the summer, occasionally breaching the very poor level.
Meteorologists had said that strong westerly winds blowing close to the surface were bringing in dust from across northwest India, particularly Rajasthan and beyond which created a veil of dust that extended up to some parts of Bihar.
"The wind directions have changed. While Delhi got some easterly winds on Saturday night, on Sunday north westerly winds started blowing. While the westerly winds were blowing with a speed of 40 – 50 km per hour, now Delhi is getting winds at a speed of 14 – 15 km per hour. These slow winds can't carry too much of atmospheric dust," said Kuldeep Srivastava, a senior scientist with the regional weather forecasting centre.
Close Story