Protests in Delhi against BHU campus violence, 38 detained
Sep 26, 2017 10:47 AM IST
Violence broke out at BHU after police forcibly removed students from outside the vice-chancellor's residence and a campus gate. The UP government led by CM Yogi Adityanath, has been widely condemned for the crackdown that left several students injured.
Anger and frustrations over the alleged police violence at Banaras Hindu University (BHU) spilled over to Delhi on Monday, with student organisations from across party lines and ideological stances staging protests in the Capital.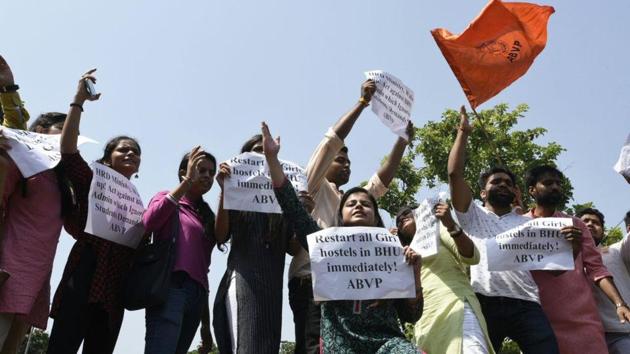 ABVP, NSUI, CYSS and Left organisations — all staged protests in the national capital, protesting the alleged use of force by the police at BHU.
Stay tuned with breaking news on HT Channel on Facebook.
Join Now
On Monday, around 50 Akhil Bharatiya Vidyarthi Parishad (ABVP) members marched up to Dr Rajendra Prasad Road and jumped over police barricades placed by the Delhi Police near Shastri Bhawan. Some students even tried climbing the gates of Shastri Bhavan and took to sloganeering at the gates, before being detained by the police.
"The ABVP has constantly delivered on student promises and we have constantly fought on student issues. We are protesting to demand more CCTV cameras on campus," said Saket Bahuguna, the spokesperson of ABVP, when asked about why the RSS-backed organisation was protesting against the BJP government.
Around 40 members of the Congress' National Students' Union of India (NSUI) were stopped near Raisina Marg by police barricades. The NSUI members later tried climbing over the barricades, while shouting slogans. Eight NSUI members were briefly detained.
"Members of ABVP were allowed to protest outside HRD ministry which is a clear indication that the government is favouring ABVP in order to save their face. Modi ji continues to use the police for curbing and stopping protests against him and his government," the NSUI said in a statement.
All the detained 30 detained ABVP members and eight NSUI members were later released, said BK Singh, DCP New Delhi.
A separate protest at Jantar Mantar saw activists and political groups, many leaning to Left leaning organisations, denounce the violence on BHU campus with calls for "azaadi" to dress, eat, love, and live as one sees fit.
AAP's student wing, the Chhatra Yuva Sangarsh Samiti CYSS, also held a demonstration on campus, to express their concern over "the fact that police and the university administration miserably failed in providing security to the female students."