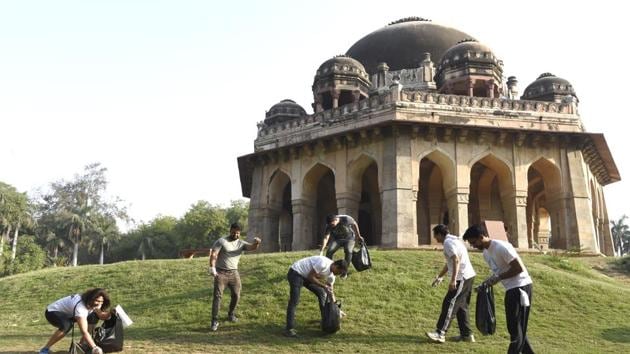 Plogging, the latest fitness craze hits Delhi
Delhi is gradually trying to embrace this new fitness trend, in which joggers pick up garbage as they run, to save the environment.
PUBLISHED ON APR 03, 2018 11:46 PM IST
NEW DELHI: Sweden's latest fitness craze — Plogging — is already trending in the West and the social media is abuzz with this new lexicon. And, now, Delhi is gradually trying to embrace this new fitness trend, in which joggers pick up garbage as they run, to save the environment.
On Sunday, a group of around 20-25 fitness enthusiasts and morning walkers, carrying plastic bags and wearing gloves in their hand, were seen jogging and picking up the trash all along their jogging tracks inside the Lodhi Gardens.
"Plogging is a new concept that is trending in the West. It is an environment-friendly exercise mashup that combines jogging with the environmental benefits of picking up trash. While jogging helps you to stay fit, collecting the trash from the ground helps to keep the environment fit and fine," said Shuchi Khanna a contemporary artist and a fitness enthusiast who kick-started the initiative on Sunday.
It first became popular in Sweden in 2017 and then started spreading through word-of-mouth and the social media. While several plogging groups have already become active in European countries, the craze is now gradually spreading to other parts of the globe, including the US and Asian countries such as Malaysia.
"It helps you burn some extra calories as you are constantly bending to collect the trash all along the route. It is like doing squats while you are jogging. It also helps to break the monotony of jogging," said Abhinav Sharma one of the ploggers.
According to a Swedish-based fitness app, which helps ploggers to track their activities, just half an hour of jogging coupled with picking trash helps to burn 288 calories for an average person, compared with the 235 burnt by jogging alone. A brisk walk will expend about 120.
Unaware of the new western trend and oblivious to what was going on around them, some of the morning walkers at Lodhi Gardens were taken by surprise when they spotted the joggers stopping along the tracks just to pick up trash and store it in a plastic bag.
"When we told them about the new concept, they lauded the initiative and some even joined us. Some joggers picked up discarded plastic bottles and empty polythene packets to drop them in dustbins. Some handed over the trash to us. It was a wonderful feeling," said Asha Khanna, 76, the oldest member of the team.
Within one and half hour, the team members had gathered a few kilos of trash which were dropped in the dustbins installed in the park by the civic authorities.
"We collected all sorts of trash and garbage including gutka packets, chips packets, water bottles, cigarette butts, discarded bottles and ice-cream sticks. I don't throw garbage on the ground. We always carry a plastic bag in our car to collect waste," said seven-year-old Tianna Thakur, the youngest plogger.
Team members, however, said that the idea was not to collect huge quantities of trash or cleaning the entire garden and make it free of garbage. It is just a new form of exercise coupled with a simple effort to save the environment.
The ploggers, who came from various professions including teachers, IT professionals, physiotherapists and Unani doctors, said that such activities would be carried out every weekend to start with. Later, it could be expanded to other parks and throughout the week when more members join in.
Close