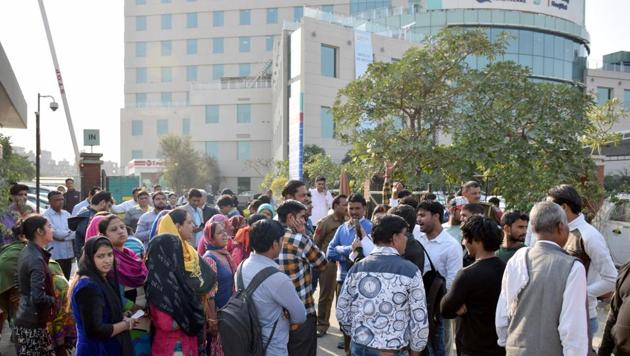 Probe begins after Delhi's Max hospital declares dead newborn baby who was alive
Doctors told the family the boy had died and handed over the body packed in a plastic bag to the family.
UPDATED ON DEC 02, 2017 05:14 PM IST
The Delhi Medical Council is probing charges of negligence by a private hospital that allegedly declared dead a newborn who was alive, an incident that has sparked outrage in the country.
The baby was one among twins delivered by a woman at the Max Hospital in Shalimar Bagh on Thursday. While one was stillborn, doctors declared the other dead a few hours later, the family said.
The family discovered one was alive while taking them for burial.
"Based on the reports where a newborn baby was declared dead along with his stillborn twin and handed over to his parents at Max Hospital Shalimar Bagh, Delhi, Medical Council has taken cognisance of the case and suo moto decided to examine the case," the council said in a statement.
State health minister Satyendra Jain has asked the his department to submit a preliminary report on the incident within 72 hours and a final report by next week.
Union health minister JP Nadda also directed the state government to look into the matter and take necessary action.
Praveen Kumar, the maternal grandfather of the infants, said his daughter Varsha was admitted to the hospital on Tuesday afternoon.
"Two days later, following a C-Section delivery around 7-30pm, she first delivered a baby boy and then a girl 12 minutes later," he said.
Doctors later told the family that the girl had died and the boy was alive but critical and needed ventilator support, added Praveen.
Later, the doctors told the family that the boy too had passed away and they handed over the bodies packed in plastic bags to the family.
"When we were on our way for carrying out the last rites, we noticed movement in one of the packets. This was near Madhuban Chowk and we opened the packet we found the boy was breathing. He was taken to another hospital in Pitampura where he was admitted and is currently under treatment," said Kumar.
The family approached the police after burying the girl child.
Meanwhile, Max has also initiated an inquiry into the matter.
"We are shaken and concerned at this rare incident. We have initiated a detailed enquiry, pending which, the concerned doctor has been asked to proceed on leave immediately. We are in constant touch with the parents and are providing all the needed support," said the hospital in a statement.
DCP north-west Aslam Khan said they have received a complaint from the parents of the child.
"As per procedure we will carry an inquiry and submit our findings to the Delhi Medical Council and Medical Council of India seeking further directions from them," said Khan.
Close