JNU V-C wants tank on campus to remind students of army's sacrifices
Jul 24, 2017 12:17 PM IST
JNU vice-chancellor M Jagadesh Kumar requested ministers to procure an army tank to be exhibited in the university.
At a Tiranga March organised in the Jawaharlal Nehru University ahead of the Kargil Vijay Diwas, the university vice-chancellor sought help to procure an Indian Army tank to be displayed inside the varsity premises.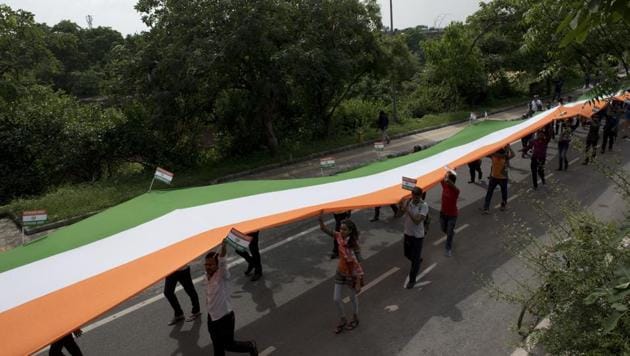 The Sunday's gather at the university was unique in many ways. In attendance were minister of state for petroleum and natural gas Dharmendra Pradhan, minister of state for external affairs VK Singh, Major General (retd) GD Bakshi and cricketer Gautam Gambhir. Only a handful of students, however, turned up for the advance celebration of Kargil Vijay Divas, which actually falls on July 26.
Stay tuned with breaking news on HT Channel on Facebook.
Join Now
Slogans such as Jahan hue balidaan Mukherjee (Syama Prasad Mukherjee), woh Kashmir humara hai. Sare ka sara humara hai (The Kashmir where Mukherjee died is ours) echoed on a relatively empty JNU campus as a group of over 300 people walked, fluttering the tri-colour, from the main gate to the convention centre.
During the programme, JNU vice-chancellor M Jagadesh Kumar, who stood in support of the march, requested Dharmendra Pradhan, and VK Singh, to procure an army tank to be exhibited in JNU. "We request you to help us procure an army tank so that it could be put in JNU. The tank will remind students of the great sacrifices and valour of Indian Army."
Terming it as a defeat of the "anti-national" forces in JNU, the slogans "Naxalwad na Maowad, sabse upar Rashtrawad (no Naxalism or Maoism only nationalism," and "Pakistan Murdabad (down with Pakistan)," were raised as the crowd followed people leading the protest with the 600-metre-long flag.
On the evening of February 9, 2016, JNU students were accused of raising anti-India slogans on the campus at an event to mark the hanging of Parliament attack convict Afzal Guru and were booked for sedition.
Even though the event, a part of the Vidya Veerta Abhiyan initiative of the Ministry of HRD, was to be joined by JNU students, there were only a handful of them. The event was also attended by relatives of martyrs.
"Jahan kiya jhande ka apman, ab wahin hoga jhande ka samman," said a participant. Everyone repeated followed by whistles, claps and the chants of "Bharat Mata ki Jai".
Saurabh Sharma, vice-president, ABVP called the march "historic". "ABVP led today's historic march along with the veterans of Indian Army and JNU students and teachers. JNU is now changing. The students are understanding the meaning of true nationalism. Earlier JNU only spoke about Maoism, now it nationalism it taking roots here," he said.
Major General (retd) GD Bakshi termed JNU as a "new and transformed campus". Taking a jibe at the Left-leaning students in JNU he said, "See how we turned things around. We want to make them understand how people in the Army lay down their lives. Last year, what happened at JNU was a clear show of shamelessness by separatist forces."
Talking about how an institution must impart not just knowledge but also values, he said. "Today we made sure to send a message across to those who do not get what nationalism is by hoisting the Indian flag here. Those people were against putting Indian flag on the campus. I ask them why? How dare they say that? Is this our land or Pakistan's? Why won't the flag be here? Today, they have been answered," he said.
Supreme Court advocate Monika Arora voiced the same opinion. "Those people who shouted slogans were followers of Marx and Stalin, the people who not only destroyed themselves but also the countries they belonged to, with their ideas. These ideas spread like a disease and if not treated then it develops into gangrene."
Reacting to the event, Amal, vice-president JNU Students Union, said that everyone has the right to conduct a programme but they should also respect the right to dissent.
"They can hold their programmes and say what they wish but why have they been curtailing the voices of dissent. Each time we screen a film or hold an event that does not suit their agenda, they send notices to us. When we do not have a problem with them holding events, they why stop us? They call such events patriotic but they just use them as an opportunity to recruit people in RSS," he said.