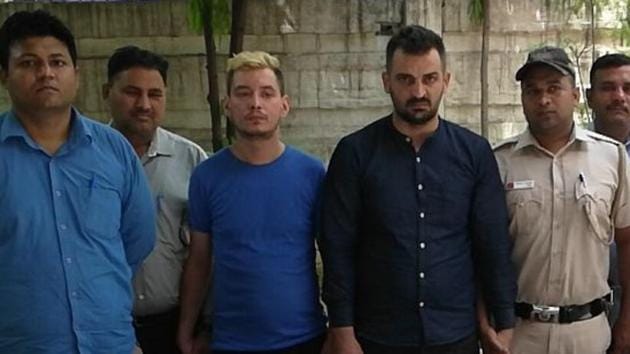 Two Romanians withdrew money from ATMs with cloned debit cards, bought details at auctions
The fraudsters used machines that cost less than Rs 10,000 and separately swiped your cards at payment outlets such as restaurants and fuel stations and copied all your data.
Hindustan Times, New Delhi | By Shiv Sunny
UPDATED ON MAY 05, 2018 09:05 AM IST
Two Romanian men who would visit Delhi only to withdraw money from ATMs using cloned debit cards have been arrested with nearly Rs 22 lakh in various currencies, police said on Friday.
Unlike other debit card fraudsters, the Romanians did not actually go through the process of cloning cards.
"Instead, the accused men would buy debit card data from their other Romanian associates who in turn would purchase them at auctions in the grey market," said Romil Baaniya, deputy commissioner of police (south).
While sale of people's personal details is relatively common, an auction of debit card details along with their PINs is quite unheard of.
"We hope to unearth the grey market where such auctions take place. The Romanians are in police custody for five days," said the DCP.
Cloning of debit cards has been a cake walk for fraudsters for a while.
Using machines that cost less than Rs 10,000, the fraudsters separately swipe your card at payment outlets such as restaurants and fuel stations and copy all your data.
Thereafter, the data are copied on an empty and worthless card. They obtain the PIN by either peeping while you key in the numbers of by checking the CCTV footage of the act.
"So far, we have learnt that the rate and demand for each card at these auctions is decided on their withdrawal limits," said the DCP.
Why would the data gatherers auction the information instead of withdrawing using the cards themselves? The officer said it is possible that individuals worked to their strengths, but more would be known only after busting that market.
The two Romans arrested in the latest case have been identified as Iulian Dumbrava, 29, and 33-year-old Cornel Traian Mirea. Running a shop and a poultry farm in their own country, the duo would visit India on tourist and business visa to commit the cyber crimes, said the DCP.
Their crime came to light when the south Delhi district police received multiple complaints of unauthorized withdrawals from ATMs located in remote parts of the city during early morning hours.
"We checked the CCTV footage at such ATMs and deployed our men. On Wednesday, one officer caught a suspicious-looking person trying to withdraw money from a Yes Bank ATM in Saidulazab. He was found to be carrying 14 cloned cards and each of them had the PIN written on them. We nabbed his associate as well from a nearby location," said the DCP.
Overall, 48 cloned plastic cards were recovered from them. They were also found carrying Rs 9,05,000 in Indian currency, 2,760 pounds, 5,000 euros and 10,000 USD.
"To avoid getting identified, they would mask themselves using fake masks, helmets and goggles," said the DCP.
The officer said the accused would be interrogated to find out why they targeted ATMs in Delhi instead of those in more remote locations in other states.
Close