Unsafe electric poles in Delhi pose a safety threat in monsoon season
Updated on Jun 30, 2018 11:20 AM IST
While distribution companies are to be blamed for poor maintenance of electricity poles, the risks increase manifold because of rampant encroachment and power theft, power department officials said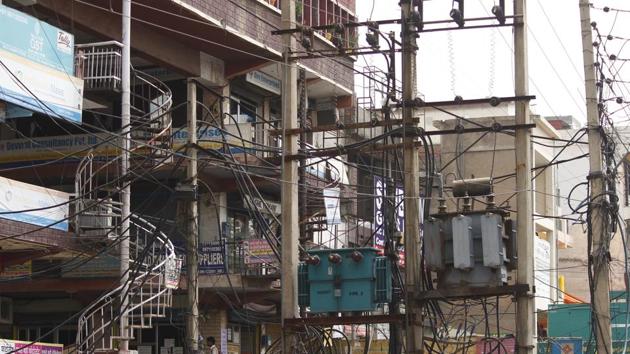 Despite plans of going high-tech with "smart meters" and "smart grids", Delhi continues to grapple with one basic problem – unsafe electric poles.
Friday's incident when a student was killed due to electrocution after touching a metal board attached to a pole reflects the hazardous conditions residents of Delhi live in.
While distribution companies are to be blamed for poor maintenance of electricity poles, the risks increase manifold because of rampant encroachment and power theft, power department officials said.
An expert blamed discoms and the government for not complying with the prescribed safety standard. "There have been suggestions from various expert committees to replace overhead lines with underground cables. But, it is hardly being implemented," said a member of NGO Common Cause India, which has been taking up the issue with the courts.
The discoms, however, said such incidents increase during the monsoon. "Power theft by way of hooking into an electricity system, including electricity poles, poses a serious safety hazard, especially during the rainy months. Invariably these 'hooked on' wires are not insulated or properly fixed and in case of windy or rainy weather, they can fall off, and cause grievous injury or even fatalities," a BSES spokesperson said.
Discom Tata Power Delhi Distribution System said the problem also arises from unauthorised constructions. "In some areas, it is a common sight to see an electricity pole literally inside or merged with balconies, exposing the residents and the property to grave danger. At times, this encroachment prevents maintenance," an official said.
Another issue discoms said they face are illegal cables that continue to dot the electricity poles in all over Delhi. Besides being illegal, these cable TV, telephone and internet cables are strung over electricity lines in a haphazard manner.
"These unauthorised cables not only damage the electricity cables but also obstruct the movement of people and traffic in the area. Areas such as Chandni Chowk, Laxmi Nagar, GTB Nagar, Shahadara are perfect examples," said another discom official.