Delhi: 'Curfew' lifts in Trilokpuri, but with conditions
Hindustan Times |
, New Delhi
Mohit Sharma
Oct 28, 2014 12:50 AM IST
Curfew-like situation prevailed in East Delhi's Trilokpuri area for the third consecutive day with people not being allowed to step out of their houses though no untoward incident took place in the violence-hit locality today.
Trilokpuri continued to remain tense for the fifth straight day despite prohibitory orders being lifted for a few hours on Monday to allow people to make necessary purchases.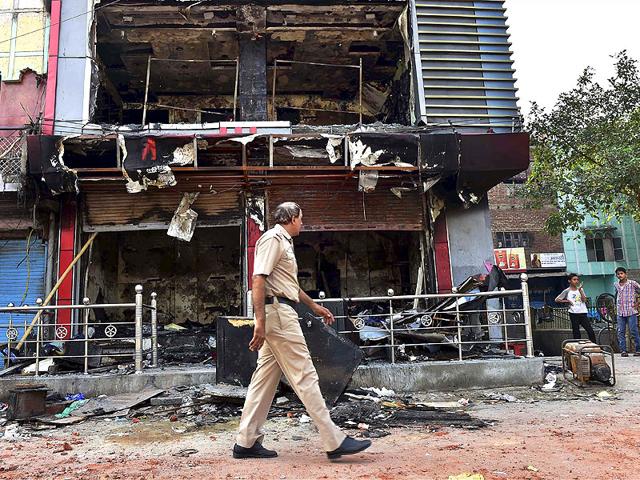 The move was preceded by heavier than usual deployment of forces. Police personnel were seen maintaining queues in the local markets.
Locals claimed that the reason behind the heavy deployment was yet another stray incident of violence which was reported from Block 27 of the area.
The relaxation of orders had another side. The policemen allowed only women to visit the local market and continued to restrain men from the area from coming on to the streets.
Though happy about the relaxation, the locals complained about their movements being restricted."We are not being allowed to go to work; markets are closed; we don't have access to our own vehicles. When will be the prohibitory measures be uplifted?," a woman was heard asking a policeman.
So far, 63 people have been arrested for violence which began sporadically on Thursday evening and then gripped the entire area. More than 40 people have been detained and more detentions are likely to take place over the next few days.
The police are also mulling relaxing the prohibitory orders on Tuesday if the situation continued to remain peaceful.
Considering reports of local shopkeepers inflating prices of local commodities, the Delhi Police have made special provisions for the people. "We have requested the local Mother Dairy and Safal booths to keep their stores fully stocked to make sure there is no scarcity of goods," said Sanjay Beniwal, Joint Commissioner (East).
Amid reports of black marketing and hoarding, the Delhi government also swung into action, with officials of food and supplies department making random checks to curb malpractices.

Another incident?
A fire was also reported from a storehouse in the area which the police attributed to a short circuit and dismissed it as a 'minor incident'. However the owner, who used to keep cartons, cardboard and other raw materials there, alleged that a few men tried to burn the storehouse and they had the tacit support of the police.
"Some people tried to burn down our storehouse on Sunday night and despite several attempts, the police are not ready to hear us out," said Ehsan, the brother of the owner. The police have denied the allegations.