Rajghat in Delhi gets a facelift after 15 years, Gandhi's quotes to greet visitors at entrance
Updated on Jan 30, 2017 11:24 AM IST
Rajghat, Mahatma Gandhi's memorial, has got a makeover after almost 15 years.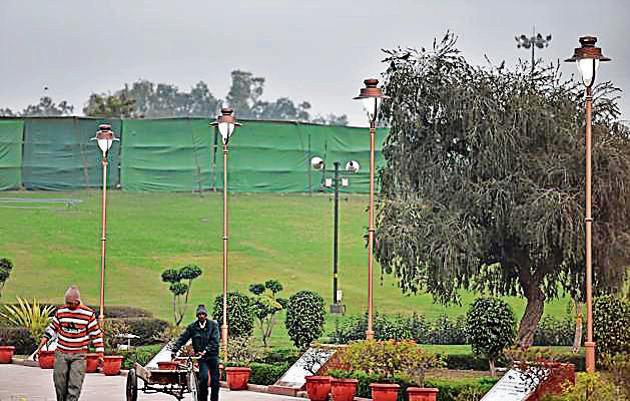 Rajghat, Mahatma Gandhi's memorial, has got a makeover after almost 15 years.The project was carried out by the Central Public Works Department (CPWD) along with Rajghat Samadhi Samiti and Delhi Urban Arts Commission.
Some of Mahatma's quotes will now greet visitors at the entrance of the memorial site. A brief profile of the Father of the Nation has also been inscribed on the granite gates at the entrance, as part of the facelift.
Read: Rajghat gets a facelift: Bapu quotes can be read on entrances
"Besides thirty famous quotes of Gandhi, we have also engraved his trademark signature and famous spectacles on the granite stone pedestals for inspiring the visitors to Rajghat," said a CPWD official.
At least six messages have been displayed at each place for visitors to read as they enter Rajghat. Additionally, there are also plans to construct a guest house and install a solar power system and LED lights at the memorial complex.
"For more than 10,000 domestic and foreign visitors who visit Mahatma Gandhiji's Samadhi at Rajghat in the national capital every day, there is nothing much to engage the visitors about his life and thoughts other than the black stone platform that marks the spot where Gandhiji was cremated," a UD ministry release said.
Read: Central Delhi's parks, roundabouts to be venue for dance performances, art exhibitions
"To address this deficiency and to enhance the engaging experience of the visitors, the Rajghat Samadhi Samiti, under the ministry of urban development (UD) has undertaken several initiatives during the last two years," the release said.
Union urban development minister M Venkaiah Naidu will inaugurate the facelifted site on Monday, on the occasion of Gandhi's 69th death anniversary.
All the existing conventional lights at Rajghat complex have also been replaced by energy efficient and environment friendly LED lights. Solar panels have been installed above roof tops and the cycle shed in the parking area of Rajghat that will generate 52 KW of energy.
Read: How Delhi's roads kick up a dust storm and make matters worse
Besides, the security paraphernalia at Rajghat has also been bolstered. For better monitoring of visitors, 27 CCTV cameras have been installed.