The Jalikattu issue stirs students of Delhi University as well
Updated on Jan 30, 2017 07:09 PM IST
The banning of the bull-fighting game Jallikattu has made students from different varsities in Delhi come together in support. Some South Indian DU students are even protesting in Delhi's Jantar Mantar.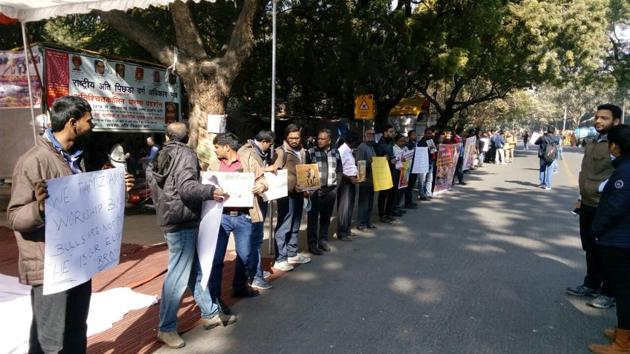 Jallikattu, the bull-fighting sport, has been dividing the nation in two parts––one against and the other for the game. Students from Delhi University (DU) are not left behind, and are making their voices heard. There are several youngsters from southern states in various universities in Delhi. Here's their take on the issue.
"We have been protesting at Jantar Mantar since last one week," says Sharavena Raghul, a B Com (Hons) II year student of SRCC. He adds, "Jallikattu isn't just a game, it's a breeding science. It's the corporate mafia which intends to abolish all native all Indian bull breeds. Once you demolish all bulls, you will have to go for artificial insemination. That's what they want."
The protest at Jantar Mantar has by far received support from around 1,000 people and is growing. "Most of our North Indian friends don't know the rules of the game. But after we explained to them that it is played keeping in mind the restrictions, they started supporting us and have also joined us in the protest," adds Raghul who is from Tamil Nadu.
V Padmavathy, B Com (H) II year student of PGDAV college who's seen the game as a child, says, "My great grandfather and grandfather used to even practice it. The tradition has been followed for years. Farmers respect their bulls. But the intention to ban the game seems to push the farmers towards becoming dependant on new technology, where they have to purchase everything via loans." She adds, "I'm trying to support the game by writing about it in my blog and circulating the same to all my friends, so that people know about the truth of the game."
Students have left no stone unturned and are using different platforms to gather support. "I have sent group message to my friends on WhatsApp so that they can understand about the same. If they read the posters, which are usually written in Tamil, they fail to understand their meaning and therefore don't support," says V Vaishnavi, BA LLB, Vivekananda Institute of Professional Studies.