Tibetan refugee held at Delhi airport for trying to help Nepali man travel on his ticket, id
Updated on Jan 18, 2017 10:20 AM IST
Rajendra Gurung had allegedly paid Wangyal Pema, a Tibetan refugee living in the US, Rs 40 lakh to let him travel to America on his documents.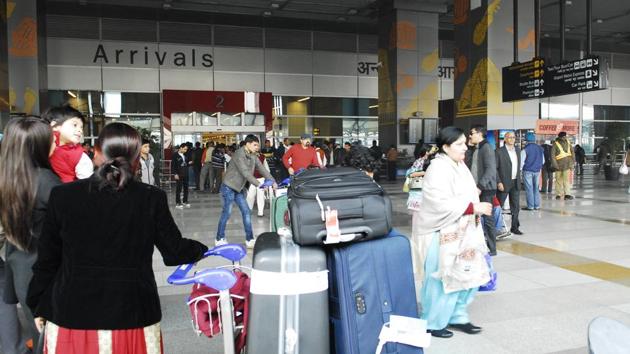 A Tibetan man, living as a refugee in the US, was arrested on Sunday at the Delhi airport for allegedly allowing a Nepali citizen to travel on his documents after accepting Rs 40 lakh from him.
Police said Wangyal Pema met Rajendra Gurung through a tout at a budget hotel in Mahipalpur.
Gurung desperately wanted to go the US and get refugee status but he did not have valid documents. He contacted a tout which brought him in touch with Pema.
On Sunday, both reached the Indira Gandhi International Airport's Terminal 3. While Pema had his legal papers and visa, Gurung had an Air India ticket to Mumbai.
Read: Sari, mangalsutra come in the way of full-body scanner at Delhi airport
Pema, who had come to India a month ago, passed the immigration channel with his papers and Gurung went through the immigration channel from the domestic counter with the boarding pass for the Air India flight, which operates from the international side of Terminal 3. Both then went to the washroom and exchanged their travel papers.
Gurung then went to board the United Airline flight UA-83 to Newark, USA, with the boarding pass and passport of Pema. During checking of the papers, the airline staff got suspicious and alerted the CISF.
Gurung was detained and taken away for questioning. He told the security officials that he is a Nepalese citizen and his real name is Rajendra Gurung. He told officials that he tried to pass off as his friend and believed that the securitymen would not spot him because they "looked alike".
"While reviewing the CCTV footage, we found that Pema crossed the proper immigration channel with a boarding pass of United Airlines flight. After completion of immigration and security clearance, both the passengers went to the washroom at security hold area where they interchanged their boarding passes," said a CISF official.
Read:Cheeky gold smuggler caught at Delhi airport
"CCTV cameras showed Pema moving towards the boarding gate for Delhi-Mumbai flight," the official said.
Soon after Gurung gave out his plan, Pema too was intercepted at the boarding gate and was handed over to the Immigration. A separate complaint was lodged with the airline, the CISF official said.
Both the men have been handed over the Delhi Police.
"We have got the custody of Gurung and are interrogating him," said DCP (airport) Sanjay Bhatia.
"We will need an interpreter to interrogate Pema. Initial investigations show that Gurung had planned to get a refugee status in the US and paid Rs 40 lakh to Pema," Bhatia said.
Personalise your news feed. Follow trending topics