Young at 106: Mirza Changezi, the grand old man of Delhi's Walled City
May 29, 2016 07:09 AM IST
Naseem Mirza Changezi, who had found a safe house for Bhagat Singh, talks about how Delhi has transformed, his sweetheart and love for newspapers
The sun is hanging low on the horizon, lending an orange hue to the sky above a nondescript haveli in the Walled City. Black and white family portraits adorn the walls of the haveli's arched courtyard painted in soft green. A dusty chandelier hangs from the high ceiling. Throaty cooing of pigeons and the soft whir of the ceiling fan rotating slowly are the only sounds one can hear inside the haveli located at the end of a long, winding narrow street.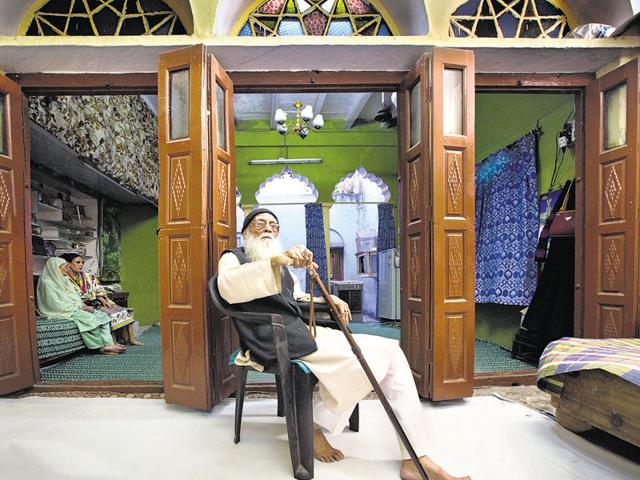 Naseem Mirza Changezi, 106 — perhaps Delhi's oldest man alive — has known this space for far too long now. He seems engrossed in a conversation with it as he stares into space like a man in deep meditation — and he is in no mood to talk. He has had fever for the past few days and has just come back after seeing a doctor at a neighbourhood clinic.
Changezi breaks his deep silence when he hears the name of Bhagat Singh. He straightens himself, taking support from the wall, and speaks. His voice betrays none of the tremulousness that comes with old age. "He was like my brother and often visited this house. In early 1929, he was in Delhi with the intention of throwing a bomb in the Central Legislative Assembly, and wanted me to help him hide. I tried to dissuade him but he would not listen to me… I went into hiding in Gwalior after he carried out his mission," says Changezi.
Soon, it becomes obvious that age has neither dulled Changezi's memory nor his enthusiasm for life. He describes the events of 1929 like a master storyteller. "A Congress leader had sent Bhagat Singh to see me. I found him a safe house in Daryaganj where he stayed in the guise of a Brahmin. He would walk to the assembly every day for reconnaissance and held meetings with us at Feroz Shah Kotla," says Changezi, who had joined the freedom movement when he was a student at the Anglo-Arabic School near Ajmeri Gate. Changezi was involved with both the revolutionaries and the non-violent Swaraj movement.
As the conversation shifts from the past to the present, a deep disappointment takes over his wrinkled visage. "Earlier we were ruled by the viceroys, now our democratically elected rulers too behave like maharajas; they are utterly incompetent and do not know how to rule," says Changezi.
Read: Facebook: The new platform for Hindi literature
His life has spanned several momentous events in Indian and world history — the First World War, Jallianwala Bagh massacre, arrival of the Simon Commission, Namak Satyagraha, Khilafat movement, the making of New Delhi, Second World War, Quit India Movement, Independence and Partition.
Today, apart from 'opportunistic politics,' what pains him the most is the loss of his home – the city of Shahjahanabad. Changezi's family shifted to Delhi from Agra with the Mughal emperor Shahjahan. He blames the decline of the Walled City on the "new rulers".
"Look what they have done to this great city. The city that once had broad streets, grand havelis with fountains and gardens has become such a filthy and chaotic place. I find it hard to negotiate my way when I go for a walk in the morning and evening," he says.
"The roads and streets where I walked and played have changed beyond recognition. It's hard to believe this is the city I was born and brought up in."
The British ran the city more efficiently, he says, as he pops a few pills the doctor had prescribed. "I know the irony of a freedom fighter saying this."
Changezi is aware that he could be the oldest man alive in Delhi. He says discipline has made such a long life journey possible. "Eat less, sleep less, and talk less," he says, adding, "And go for morning and evening walks every day." The last time Changezi visited a doctor was about two years back. "I hate falling ill because that means missing my walks," he says. He gets up at 4 am and goes to bed by 9 pm. He generally has desi ghee halwa and one puri for breakfast and two chapattis and seasonal vegetables cooked with mutton for lunch and dinner. "I have followed this daily schedule since I was 11 years old," he says.
Changezi is happy he has managed to hold on to life for so long but he misses his friends and the familiar faces on the streets of Walled City.
"They are long dead. Perhaps this is a price one has to pay for longevity," he says with a sense of melancholy. As he begins to get gloomy, Changezi's son Sikander Mirza, 60, sitting by his side all this while, reminds him of his days as a hockey player and his trip to Mumbai in the late 1930s.
Read: 'Art for everyone': Delhi turns into a canvas for street artists
The mention of Mumbai, then Bombay, brings a tinge of light in Changezi's faded eyes and memories of a romance. It was in Mumbai he fell in love with a Parsi girl.
"I was quite good looking but shy. She was extremely pretty and belonged to an aristocratic family of Mumbai. We spent days walking along the beach, and she took me to meet her mother. She did not want me to return to Delhi. But I had to return and lost touch with her," says Changezi as his wife, Amna Khanam, 90, smiles.
Changezi, who calls himself a pucca Dilliwalla, shares his fascination with Connaught Place. He would buy his blazers and get his shirts stitched at the new market built for the British elite. "While tailors in Chandni Chowk only charged six annas, those in CP charged six rupees for stitching a shirt. But I and many of my friends preferred Connaught Place. No tailor in the Walled City could match their perfection," says Changezi.
"There were a few things that we in the Walled City could learn from those who lived in New Delhi, which came up before me. I used to walk from Delhi Gate to Mehrauli every day and then this new city came up."
Changezi likes to keep abreast with the latest developments. He reads two Urdu and two English newspapers every day. News on TV doesn't appeal to him. "TV news is meant to entertain and not inform. At times I watch hockey on TV."
It's 8 pm and time for his dinner. "I believe in talking less, but today I
have broken my rule," he says, as we take his leave.