CBSE Class 12 result 2018: Students scoring 95% or above soars in India
May 27, 2018 11:39 AM IST
This year, 12,737 students scored 95% and above marks, which is 2,646 more from last year's 10,138; In Delhi, 2,237 students scored above 95%.
Delhi University cutoffs are likely to increase by 0.25 to 1 percentage points across streams this year with more students scoring 95% or above in the Central Board of Secondary Education (CBSE) Class 12 results that was declared on Saturday.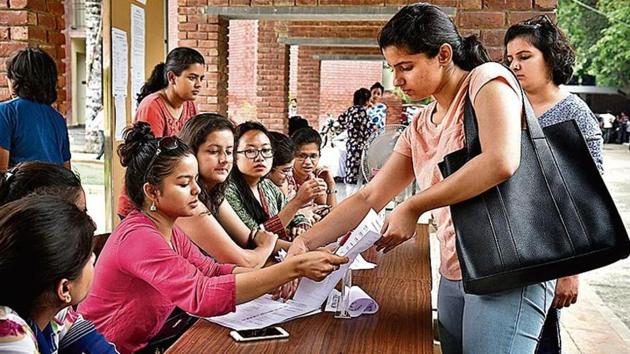 This year, a total of 12,737 students scored 95% and above marks, which is 2,646 more from last year's 10,138.
The number of students scoring 90% and above this year is 72,599, which is an increase of almost 19,000 from last year, according to information shared by the board.
The CBSE result have a direct impact on the DU cutoffs as at least 80% of the applications received by the university is from CBSE students, a top DU official said.
"The Delhi University cutoffs are decided by colleges based on the number of applications received and also on the scores of these applicants. If the number of students with 95% and above has increased then colleges will keep a higher cutoff," said a DU official.
Till now, DU has received around 2 lakh applications, the last date to fill up which is June 7.
In Delhi alone, around 2,237 students have scored 95% and above marks and 12,707 have scored 90% and above marks. Last year students 2,326 students from Delhi had scored 95% or above in their Class 12 board.
Most colleges keep a high cutoff to avoid over admission, the DU official explained. "We send colleges the number of applicants at every 0.25 percentage points difference so that they have a rough idea of how many students can turn up for admission. The cutoffs are kept at the higher end so that there is no over admission," the official said.
For instance, last year, all the DU colleges that offer Economics (hons) and BCom (hons) — two of the most popular courses — declared a cutoff above 90% in its first cutoff list. Shri Ram College of Commerce (SRCC) announced its first cutoff with B.Com (hons) and Economics (hons) at 97.75%.
Delhi University has 56,000 seats for its undergraduate courses. In 2011, SRCC had declared a 100% cutoff for B.Com (hons) but ever since has not repeated it. In 2014, however, three colleges had declared 100% cutoff for Computer Science (hons) and in 2015 two colleges had done the same.
"There could be an increase by up to one percentage points in the cutoff as more students with high scores are likely to apply. We cannot say what subjects might see a jump in cutoffs yet," said Rama, officiating principal of Hans Raj College.
However, some college principals said the actual picture will be clear after all the applications are reviewed. "One can expect the cutoff to go up because of the number of high scorers. Once the application process is over, we will see how many high scorers have actually applied," said Simrit Kaur, principal SRCC college.