Manikarnika costume designer Neeta Lulla talks dressing Kangana Ranaut, khadi and more
Ahead of Kangana Ranaut-starrer Manikarnika: The Queen of Jhansi's release, the film's costume designer, Neeta Lulla, talks about using khadi fabric for the film, how costumes have a hidden layer of storytelling and her love for the Queen actor.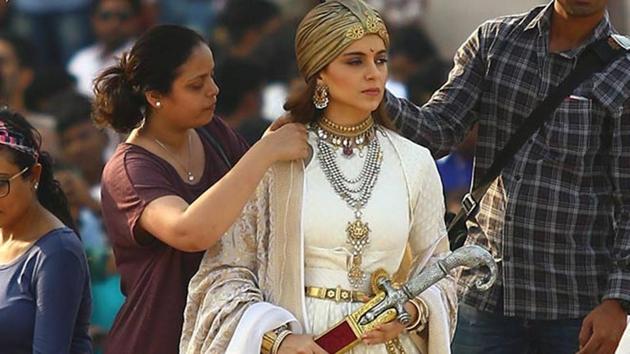 Updated on Mar 03, 2018 12:14 PM IST
Hindustan Times, New Delhi |
HT Correspondent
It's not every day that a fashion designer is called upon to dress Rani Laxmibai in a period film.
But such was the case for Neeta Lulla, who has won the National Film Award for Best Costume Design four times for her work in films, like Devdas (2002) and Jodhaa Akbar (2008). The ace designer delivers her equally detailed, rich style skills in yet another historical drama after she was charged with designing the costumes for actor Kangana Ranaut's highly-anticipated film, Manikarnika: The Queen of Jhansi. The film hits theaters in April, 2018.

The costume maven explained how every one of the ensembles in the film was painstakingly considered to lend authenticity to the period and help paint the fierce warrior queen, played by Kangana, as authentic as possible. The costumes in Manikarnika, which needed to be able to showcase both her strength and vulnerability onscreen, were meticulously crafted in fabrics like khadi, raw cotton, brocade and paithani, which Lulla sourced from government-run Khadi and Village Industries Commission, as well as from local artisans in Varanasi, Jaipur and Maharashtra.
Here is what Lulla told News 18 in an exclusive interview about the heavily-researched, battle-ready costumes in Manikarnika:
On using and promoting khadi:
"The way the fabric drapes is what draws me to it. It is comfortable and yet luxurious, and makes the wearer feel at ease even in the most elaborate ensembles."
"I feel Khadi embodies a lot of character. I feel everyone (not just designers but actors too) in the public sphere have a social responsibility to promote the fabric of freedom, not only because it involves history and heritage but because Khadi has the potential to employ the largest number of people in rural areas. Wearing khadi means paying homage to craftsperson who spin the yarn on the charkha. Even in the machine-age, they work round-the-clock to produce the hand-spun fabric."
"I think khadi needs to be popularized to a great extent and mainstream cinema will be able to do full justice in promoting the fabric to the millennial generation and the masses alike."
On her careful and extensive research:
"All epic magnum-opuses require a lot of research of the era, characterisation, using the right fabrics to create the look and creating a style which the contemporary audiences identify with. My team undertook close to 8 months of intensive research before the commencement of shooting for Manikarnika."
"It all begins with reading and dissecting the script. I like to know the backstories of every character, where they are coming from, why they behave the way they do. I have multiple discussions with the filmmaker in general about the feel of the film, what the film is trying to convey, what each character stands for. The second stage is of research, reference, deciding on the palette, making sketches and mood boards. Once the look has been developed its about getting the samples, doing look tests, making lookbooks and finally the suppliers, tailors and assistants come in for measurements. The last stage is building a comfort level with the star cast."
On how the costumes have a hidden layer of storytelling:
"Costumes, like the characters they embody, must evolve within the context of the story and the arc of the character within it. Film costuming serves two purposes: the first is to support the narrative by creating authentic characters and the second is composition, to provide balance within the frame by using colour, texture, and silhouette. If the dialogue is the melody of a movie, the colour provides the harmony, a satisfying visual cohesiveness."
On what it is like to design for a period film:
"I have always been very intrigued by period dramas that dive into history, culture and lineage. There's one thing being a fashion designer and there's another whole new high associated with being a costume designer. It's always challenging to experiment and not get typecast into a certain style which costume designing for period dramas allows you to do. It was incredible to explore the nuanced, heightened costume language of this genre."
On Kangana's style:
"I personally love Kangana Ranaut and think she is one woman who can bring to the fore, the character to every outfit."
On the challenges she faced:
"A designer's work exists to actualize the screenplay, defining the people and the places, a marriage of concept and imagery. That's why costume designers are called the language of film design. Every person from the actors to the director to the set designer to the technician need to not just be on the same page with respect to the vision, but also bring a sense of synergy through their concepts to make the entire filmmaking process collaborative and creative. This poses as a challenge when you're working with a huge team on a film. The battle scenes were probably the most challenging due to the sheer scale. It is the centerpiece of the film and I had to live up to expectation."
Follow @htlifeandstyle for more
Close Story