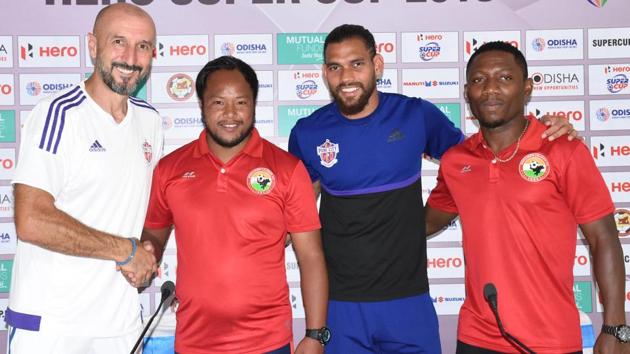 Super Cup: FC Pune City look forward to enticing battle against Shillong Lajong
FC Pune City are 'smart enough and intelligent' to swing the tie against Shillong Lajong FC when they face-off in the Super Cup Round of 16 at the Kalinga Stadium in Bhubaneswar on Wednesday.
Press Trust of India, Bhubaneswar | By Press Trust of India
UPDATED ON APR 03, 2018 04:55 PM IST
After an impressive performance in the Indian Super League, FC Pune City is all geared up to continue their good show when they lock horns with Shillong Lajong FC in the Super Cup football tournament in Bhubaneswar on Wednesday.
Pune's Serbian coach Ranko Popovic said the team "has to be at the top of the game" to get the better of the "young and smart" Shillong Lajong.
"It is a completely different competition. We had an amazing season having finished in the semifinals of ISL. This is going be a key battle on the pitch tomorrow. We have to stay motivated to get the result in our way," Popovic said.
"I believe, we are smart enough and intelligent to get the job done. Meanwhile, we have a fair knowledge of their credentials and know how much damage they can do. We have to absolutely be at the top of our game to proceed further," the 50-year-old said.
READ | Clinching Premier League title against Manchester United will be special: Kevin de Bruyne
Asked whether FC Pune City will kick-off as the favourites tomorrow, Popovic brushed it aside saying, "We have big respect for them. The league standing is not important and it's history now. A team always pushes their limits when there is only one match to prove their mettle."
"Lajong has a perfect blend of young as well as experienced players. On the other hand, what made us strong this season is our collective team effort. We'll stick to our philosophy to overcome our next hurdle," Popovic said.
Defender Adil Khan, who had a sublime season, said "There's always a chance to make a comeback in the league. But, in the cup competition, you have to be mentally strong. We want to settle it within 90 minutes only. We know how fast and energetic they are. They'll come strong on us. As coach said, we want to win the trophy for our fans."
Meanwhile, Shillong Lajong interim coach Alison Kharsyntiew said the tournament was a "great exposure" for the young bunch of players and expressed that they are positively looking forward to nothing less than a win.
"It's a great opportunity to test ourselves against a team like FC Pune City. We have built our team with a young bunch of players. It's a great opportunity for them to gain experience and a good exposure as well. We're looking forward to nothing less than a win tomorrow," Kharsyntiew said.
The heat and the humidity of Bhubaneswar could be a major concern as it might take a toll on the Lajong players but Kharsyntiew said the team will remain competitive.
"Yes, the heat and the humidity is an issue. But, we are here to compete and we're working hard to put up a good fight. We are not here to give lame excuses."
READ | Indonesia's footless goalkeeper Eman Sulaeman kicks home powerful message
"We are putting extra effort into maintaining the fitness level throughout. Nutrition and hydration are very important to combat the humidity and we're taking care of those aspects," he added.
Daniel Odafin has been a vital cog in the Lajong setup this season and the Nigerian defender is determined to churn out a win to stay alive in the tournament.
"We had worked pretty hard for last two weeks. We want a win desperately. We are here to give our best to seal a win tomorrow," Odafin said.
Close