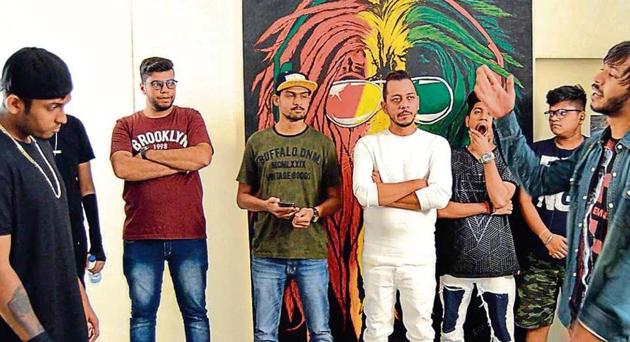 City rappers take vernacular route to underground central
Hidden in a basement, Gurugram's verse-weavers slang it out in rap battles that explode on the Internet, helping local artistes showcase their wit
Hindustan Times, Gurugram | By Sonali Verma
UPDATED ON SEP 02, 2018 02:21 PM IST
In the basement of nondescript multi-storeyed house in Sector 47 is a growing underground rap scene. On a Sunday afternoon, more than 10 rappers are facing each other off and fighting fire with fire—insulting their opponents and even flipping their insults into compliments—in their native languages.
The world outside the basement seems completely oblivious to this counter-cultural phenomenon, unless one of the participants steps out for a smoke in his baggy, hip-hop clothing.
People across the country are embracing native language rap as a means of communication, and are reviving indigenous languages while reaching newer audiences. Gurugram is not behind. Sample this:
"Chhoru su main Jaat (I am a Jaat boy); Gaam mera Lath (My village is Lath); Jad vi main maru rap (Whenever I rap); Rukke jawein paat (People stop and watch); Mein su befikar (I am carefree); Beta, meri rees na kar (Son, don't copy me); Tere pankhe jange paat (I'll chop your wings)".
The words come out in a charged, fiery cadence, and Mahesh Dhonchak, the man 'spitting' the verse, has the body language to match his energy.
Dhonchak was 15 years old when he was introduced to the world of rapping.
"At that time, a television channel would play five hip-hop songs for half-an-hour. I got hooked to Justin Bieber's songs from there. I had never heard anything like it before," he said. A friend later introduced him to the songs of American rapper Eminem and his closer-to-home counterpart Bohemia.
"Initially, I would copy their lyrics and rap. But I soon realised there were stories behind those lyrics, so I started writing rap on my own to share my story," Dhonchak said.
Today, in the country's underground hip-hop and rap scene, 23-year-old Dhonchak is popularly known as the Haryanvi rapper 'Laath Saab'. Lath is his village in Sonipat, Haryana, and hence, the name. But Dhonchak said he didn't know the local dialect when he started out.
"My first few songs were in Punjabi and English. I later picked up Haryanvi from my relatives," Laath Saab said.
He said he would earlier pick up beats from YouTube, but now writes, sings and composes his own music.
When asked about the number of days it takes for him to write a rap song, he replied, "It depends on the feel. If the feel is good, it hardly takes more than 15 minutes."
Laath Saab's story is similar to many of today's artistes who rap in vernacular languages. The artistes' backgrounds are diverse, but what brings them together is the power of rap.
"Growing up, many youngsters found an escape in Eminem's angry, fast rhymes," said Amyth, a rapper based out of New Delhi and Gurugram, where he established 6FU in Sector 47 just about two years ago.
"Rap is an outlet. With the lyrics, especially when they are in your native language, you are free to say so much more than you can with a regular song," said Amyth, who raps in Punjabi and Hindi under the stage name Trouble.
Amyth was in the UK when he got into rapping. "But UK was never my own country and neither were the people. I wanted to come back to India and promote rap," he said, remembering the year when rap first blew up in India—2009.
"But people were mostly copying other rappers and I wanted to explore indigenous languages through rap. So I decided to pool in funds and start an academy so that I could help make rap a desirable career option," he said.
At 6FU, Amyth hosts rap battles and cypher (freestyling) sessions where more than a dozen rappers perform turn-by-turn on the same stage to see who has the better verses.
Each battle consists of three rounds and each round has a different instrumental hip-hop beat to rap over. The winner gets a chance to star in music videos, mixtapes and on social media accounts of 6FU, which describes itself as "the biggest rap battle league in India".
Videos of these battles, worth lakhs of rupees, are uploaded on YouTube, where they garner lakhs of views and hundreds of comments from the channel's almost 43,000 subscribers.
"Rappers who don't battle are losing out on the scene. Such battles test your wit and quick thinking, something that rapping requires," said one of the participants of the battle.
Because of the combative nature of the rap battles, the events have a no-physical-touch rule. To win a battle, the participants are judged on how they insult their opponent better, use punches better than their opponent's, and how original their content is. Videos of such battles are uploaded on YouTube for the world to see.
"Most people think that rap is about violence, drugs and expletives. It is just about being true to oneself. It's about how we speak and how we live. There's profanity in stand-up comedy and other art forms, too. People just have a habit of stereotyping," Amyth said.
Rapper Piku Ross (23), who is based out of New Delhi and raps in Punjabi and Haryanvi, is a regular at such freestyle rap events. His battle videos have more than 11 lakh views, and have explicit lyrics.
"My mother cried after watching one such video of me using expletives while freestyling. I was depressed for months after that and wanted to quit rapping for sometime," he said.
Ross, however, added that despite little encouragement from parents, he wants to make it big in the rap world.
"I've been doing it for the past six years," he said.
Piku Ross then took out his phone and proudly said he has the phone number of Ikka, the Haryanvi rapper who made it big in Bollywood by rapping in his native language.
Close