Daddy blues: Causes and symptoms of postpartum depression in men
Dec 15, 2015 06:53 PM IST
A new study indicates that postpartum depression can affect dads as well. We get experts to talk about this condition.
A recent study by the Australian National University (ANU) revealed that one in 10 men can suffer from postpartum depression (PPD). For the longest time, PPD was believed to only affect women. However, the findings of this new study seem to have brought to light the suffering of several young, first-time fathers.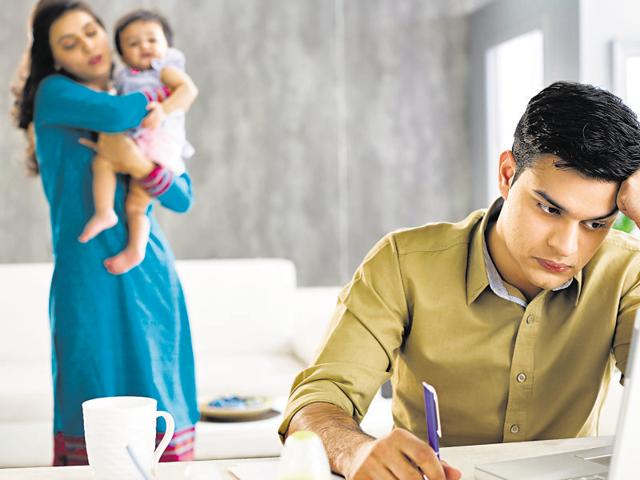 "PPD is described as a form of clinical depression that follows the birth of a child, usually in the first six weeks after delivery. Initially, the condition was diagnosed only in women. But over the years, it has been seen to occur in men as well," says Rohann Bokdawala, consultant psychiatrist, Shriya Polyclinic, Marine Lines.
According to the study, the risks for men suffering from PPD are nearly as high as they are for women, but the numbers of cases reported are comparatively less.
"The rate of occurrence is almost double in women than it is in men. Since there is limited awareness about postpartum depression in men, it goes unnoticed at times," says Neeta V Shetty, psychotherapist, Blissful Mind Theraphy Centre, Wadala (E).
The cause
"Women suffer from postpartum depression mainly due to the hormonal changes and the innumerable activities taking place within their bodies, whereas men get anxious and feel deprived of the attention that was earlier given to them. This is because post the birth of a baby, a woman's attention tends to shift from the husband to the child. Hence, postpartum depression is commonly seen in first-time dads," says Bokdawala.
Other reasons for PPD in men include the pressure to earn more to support a child, the fear of dealing with more responsibility and the lack of emotional and physical intimacy.
"Another reason could also be the reduction of testosterone and increased estrogen levels. Usually, men bottle up their feelings regarding a child, which only aggravates the condition," says Dr Kersi Chavda, consultant in psychiatric medicine, Hinduja Healthcare Surgical, Khar.
See the signs
The symptoms for men and women, when it comes to PPD, are completely different.
Men experience the following:
Sadness; bouts of crying
Hyper-sensitivity
Increased or decreased appetite
Lethargy and irritability
Low sex drive
Being socially inactive or isolating oneself
Anger issues
Disturbed sleep
Increased use of alcohol or other drugs
Isolation from family and friends
Getting easily stressed
Impulsiveness
Loss of interest in work
Suicidal thoughts.