HTLS 2017: Chhattisgarh CM says development will turn state's red corridor into 'green corridor'
Updated on Dec 04, 2017 12:17 PM IST
On Day 2 of the HT Leadership Summit, Chhattisgarh CM Raman Singh said change can't be brought at gunpoint, it needs dialogue and development.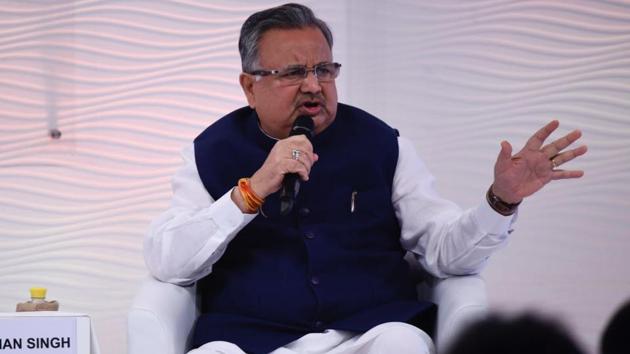 The Maoist rebellion in Chhattisgarh is at its end and the state's so-called red corridor will become a "green corridor of development and peace", said state chief minister Raman Singh on Friday.
Singh, who was speaking at the Hindustan Times Leadership Summit in Delhi, said Chhattisgarh is "turning a new tide" because of his government's development policies. "The state is 17 years old now—it's an age when is one is full of ambition and aspiration."
"Red corridor will become green corridor. Green corridor means peace and development. There will be drums of celebrations, not the sound of bombs exploding," he said, in response to a question on why 17 of the 27 districts in the state continue to be classified as Maoist-infested.
On steps being taken by the government to tackle the Maoist rebellion, Singh asserted that development projects are being pushed despite continued violence. "I am neither tired nor defeated. Recently we lost 12 security personnel while trying to build a stretch of road," he said, explaining that roads and schools are being rebuilt whenever they have been destroyed in Maoist hotbeds such as Bastar.
Commenting on alleged human rights violations by security forces fighting Maoists, he said: "Change can't be brought at gunpoint. It will need dialogue and development."
Singh, the BJP's longest-serving chief minister, said he was confident of returning to power for the fourth time in 2018. "We will get a better result. Our target has been set at 65-plus and we will achieve that. This time when we go to polls, we have the BJP at the centre and one plus one will add up to 11."
He quoted per capita power consumption statistics and healthcare indicators to assert that Chhattisgarh is "on a tremendous growth path" after being considered a backward state that grappled with problems of hunger and migration for long.
To illustrate the progress in developing infrastructure, Singh shared an anecdote of how his family depends on government-run hospitals.
"When my father fell ill, I decided to take him to a district government hospital. I had trust in my doctors. My daughter-in-law had a premature delivery. I had to decide whether to treat her at AIIMS in Delhi or a government hospital in Raipur. I chose Raipur and mother and child are doing well," he said.
The next area the state will focus on, Singh said, was "IT connectivity". "People want mobile connectivity — the young want smart phones and we will provide it free of cost for 15 lakh people," he said.
The chief minister said creating new jobs in manufacturing sector will be a priority in a state that currently gets a bulk of its revenue from the mining sector.
Singh was asked about communal incidents, such as cow vigilantes attacking Muslim cattle traders, in other states ruled by his Bharatiya Janata Party (BJP). "In our state there is no history of communal riots, and I say there will be no such incident in the next 50 years. We are already fighting Naxals. We should move forward on the development front," he replied.