HTLS column by Rachel Dwyer: Bollywood gets bigger, stays proudly Indian
There are fewer big Bollywood hits but they are getting bigger. Last year's Dangal surpassed all others, while the two Baahubalis, PK, Bajrangi Bhaijaan and others are lasting hits.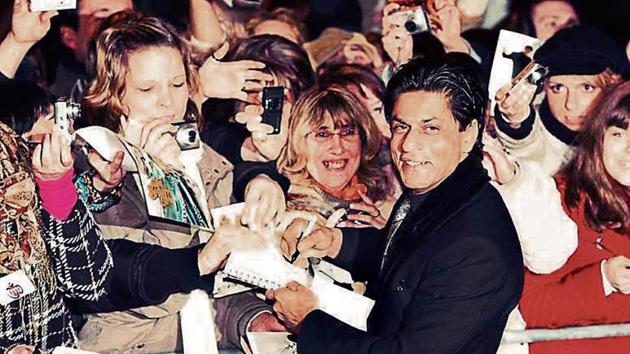 Updated on Nov 29, 2017 03:52 PM IST
In Kal Ho Na Ho, a deeply divided Indian family prays for an angel to help them -- followed by a cut to a rear shot of Shah Rukh Khan overlooking Manhattan. This 'Angel of New York', who had come to the States for medical treatment, teaches the values of the heart to the family before he dies. He also shows Americans what Indian values are.
Indian cinema has been global since its beginning, having been screened all over Asia, southern Europe and Africa, but failing to find major audiences in northern Europe or North America. I remember in the UK in the 1970s, there were Sunday morning screenings of Indian films in local cinema halls.
These ended when video and paan shops became ubiquitous in the 1980s-90s. The movies were screened without subtitles, being aimed at Britain's large South Asian population. In London, cinemas in Asian areas such as Harrow began to show Indian films as the main features in the 1990s, soon followed by screenings at multiplexes in Leicester Square.
Even though the films had English subtitles, the audiences were almost exclusively South Asian. I remember being warned, 'This is one of our films, madam', when going to see 'Hum aapke hain koun….!' in 1995.
While Hindi films appeared in the week's top ten box office collections, the failure to attract non-South Asian audiences was glossed over. It seemed it was time for a crossover film and many hopeful candidates such as Lagaan entered the fray. Crossover success never materialised.
However, westerners (to use a shorthand term) now knew there was something called Bollywoo'. People often told me they had seen a Bollywood film but it was usually one made by a diasporic film maker: Gurinder Chadha, Mira Nair, Deepa Mehta, or even by a Brit ('Slumdog Millionaire', directed by Danny Boyle, 2008). Bollywood had become a recognised brand or a style. Bollywood was shocking pink, it meant big song and dance numbers and seemed kitsch, ridiculous and even inadvertently comical. In other words it was a form of failed cinema which looked stylish and exotic.
Those who love Bollywood films appreciate these features but they weren't merely indulging their fondness for bad taste. They were enjoying the emotional excess of these films which engaged with the idea of Indianness not so much as a jingoistic nationalism but defining who was Indian and what are the features of Indianness, and how members of the Indian diaspora are part of this idea of India beyond its borders.
The confidence of India's new middle classes who emerged in the post-liberalisation era extended to the global stage. Travelling overseas, they weren't cowered by sneering westerners but were enjoying their Indian lifestyles rather than feeling ashamed of them.
The films got bigger and bigger. Perhaps the first truly Bollywood movie was Aditya Chopra's DDLJ (1995), but Karan Johar made the maximum Bollywood film, 'Kabhi Khushi Kabhie Gham' (2001), perhaps ending the moment, as it could not be surpassed.
Baahubali 1 and 2, two of the most successful films ever, were epic fantasies which also showed the power of south Indian cinema, celebrated in Chennai Express, a tribute to Thalaivar, Rajnikant.
Yet something else was happening. Middlebrow films were re-emerging after what seemed like a long interval.
As in the 1970s and 80s, major stars acted in the glossier movies ('Lootera', Vikramaditya Motwane, 2013), while films based on Shakespeare (Vishal Bharadwaj's Maqbool 2003, Omkara 2006, Haider 2014), films set in the small towns and non-metros (Dedh Ishqiya, directed by Abhishek Chaubey, 2014; Masaan, directed by Neeraj Ghaywan, 2015) and a wave of Marathi films which attracted wider attention (Nagraj Mule's Fandry 2013 and Sairat 2016, Gabricha Paus, directed by Satish Manwar, 2013) found screens in the new multiplexes located in the temples of consumerism, the shopping mall.
There are fewer big Bollywood hits but they are getting bigger. Last year's Dangal surpassed all others, while the two Baahubalis, PK, Bajrangi Bhaijaan and others are lasting hits. They are unquestionably still Bollywood, but with memorable stories and scripts. The films retain their engagement with Indianness, which may mean being a national-level female wrestler, a friend of an alien who marries a Pakistani, or a Hindu nationalist who goes to Pakistan, learning through his love for a Pakistani child that religious differences can be managed.
Historicals attract controversy due to clashes over whose history is being told. Despite much gloom and doom, Bollywood is holding its own, adapting and changing, but remaining proudly Indian.
(The author is professor of Indian Cultures and Cinema, SOAS, University of London)
Close Story