Shujaat Bukhari's killers identified, one of them is a Pakistani, say Jammu and Kashmir police
A senior police officer said two of Shujaat Bukhari's killers were from Kashmir and the third one was from Pakistan.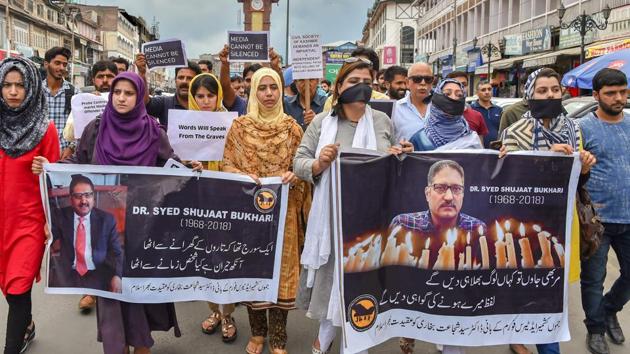 Updated on Jun 27, 2018 05:33 PM IST
Hindustan Times, Srinagar | By Mir Ehsan
Two men from Kashmir and a Pakistani killed senior journalist Shujaat Bukhari in Srinagar on June 14, said Jammu and Kashmir Police on Wednesday.
"The case has been solved and all the attackers identified," said a senior police officer. He identified the Pakistani as Naveed Jutt, who had escaped from the police custody.
Bukhari, 48, the editor-in-chief of Rising Kashmir, was attacked by three gunmen on a motorcycle while he was in his car. His two security guards were also killed as multiple bullets were sprayed at them
A special investigation team headed by DIG Srinagar of Jammu and Kashmir Police identified three men on the basis of security camera recordings. Police said an anonymous blogger who had written against Bukhari and other journalists has also been identified.
Police had arrested two persons in the case, but have ruled out their involvement in Bukhari's. Sources said police had got vital clues from the spot and also from the CCTV cameras on the first day of the probe. However, after thorough investigation based on the technology and human intelligence, police has now claimed to achieved a breakthrough.
A journalist for three decades, he had worked for 15 years at The Hindu and was known in the state and the rest of the country as an important Kashmiri voice. No militant organisation had taken responsibility for the attack by the time of going to print. Bukhari was an advocate of a peaceful resolution of the Kashmir issue and was instrumental in organising several conferences involving former diplomats and generals from India and Pakistan.
Militant groups have denied killing Bukhari, blaming security agencies instead.
Close Story