Asaram case verdict: Self-styled godman cries in court after life sentence for raping minor devotee
Updated on Apr 26, 2018 12:10 AM IST
Asaram was sentenced to life imprisonment until death for rape that was delivered in a courtroom in Jodhpur Central Jail.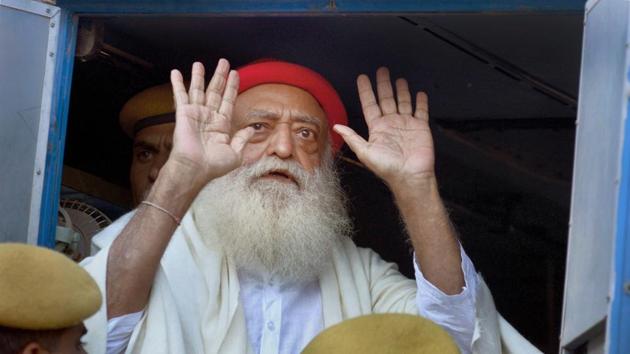 Hindustan Times, Jodhpur |
Dinesh Bothra
A Jodhpur court on Wednesday convicted self-styled godman Asaram of raping a teenager in August 2013 and sentenced him to life in prison until death, the maximum punishment prescribed by the law for the offence. Judge Madhusudan Sharma also convicted two other accused, Shilpi and Sharatchandra, and sentenced them to 20 years in jail. Two other accused, Prakash and Shiva, alias Sawaram Hethwadia, were acquitted.
Asaram, 79, who runs ashrams and has millions of followers in India and overseas, was convicted in a closed jailhouse court in Jodhpur where hundreds of police stood guard on Wednesday. He was arrested in Indore and brought to Jodhpur on September 1, 2013, to face trial in the case in which he was accused of raping a girl who was then 16 at his ashram in a village near the Rajasthani city.
"I am happy to get justice. We had complete faith in the judiciary and are happy that we got justice," the father of the survivor said in Shahjehanpur, Uttar Pradesh. "This case will set an example for the daughters of the country who are harassed at the hands of people like Asaram."
For fear of Asaram's supporters, his family has not come out of their home, which has been guarded round-the-clock by the police for the past four months, the father said.
The prosecution produced 44 witnesses and 160 documents to prove its case against Asaram, who was charged with offences including trafficking, wrongful confinement, sexual harassment and rape of a minor, under the Indian Penal Code, and Section 23 of the Juvenile Justice (Care and Protection of Children) Act.
"We will study the judgment and file an appeal in the Rajasthan high court," Asaram's Counsel Sajjanraj Surana said.
The verdict was pronounced amid heavy security enforced in Jodhpur to prevent the kind of violence that followed the August 2017 conviction of Dera Sacha Sauda chief Gurmeet Ram Rahim Singh in a rape case. At least 11 people died in Panchkula in violence that followed that order.
Judge Sharma,of the special court for Scheduled Castes and Scheduled Tribes (Prevention of Atrocities) Act cases, reached the courtroom in Central Jail at 9 in the morning.
He marked the presence of the accused and their counsel in the order-sheet. Shortly afterwards, Asaram and two co-accused were convicted.
The court asked the defence and the prosecution to argue on the sentencing. Defence counsel Surana requested the court to consider Asaram's advanced age in pronouncing the sentence while public prosecutor
Pokarram Vishnoi sought maximum punishment for the accused.
Asaram was given 10 years rigorous imprisonment for trafficking of minor (section 370(4) of IPC), one year for wrongful confinement (section 342 of IPC), life imprisonment until death for rape (section 376(2)(f) of IPC) and six months of simple imprisonment (section 23 of Juvenile Justice Act).
In addition to the prison terms, the court ordered a compensation of ₹5 lakh to be paid to the victim.
"This judgment is a lesson to people who think they can get away by committing sexual offences against children," said Yashwant Jain, chairman of the National Commission For Protection of Child Rights.
Indian Police Service officer Ajay Pal Lamba, who supervised probe into the rape case in 2013, said the truth had won.
"The verdict shows that even persons from the weakest sections of society can take on the most influential ones " said Lamba, calling the judgment a "historic verdict for criminal jurisprudence".
The minor had in August 2013 accused Asaram of raping her at his ashram in Manai village near Jodhpur.
The girl, who belonged to Shahjahanpur in Uttar Pradesh, was a student staying in the ashram. Asaram was arrested on August 31, 2013 and sent to Jodhpur Central Jail.
In November 2013, the Jodhpur police filed charge sheet against Asaram and four co accused.
The charge sheet accused him of rape, sexual exploitation and human trafficking apart from offences under the Protection of Children from Sexual Offences Act (POCSO Act) 2012.