Baby-selling scandal: Jharkhand police deny release of nun's 'confessional video'
The 50-second video doing the rounds on social media shows Sister Koshleniea replying to questions by a male voice.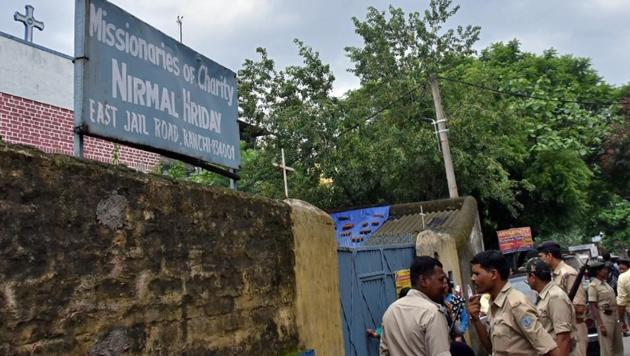 Updated on Jul 14, 2018 11:33 PM IST
A video purportedly showing sister Koshleniea admitting to her involvement in the selling of babies was circulating on social media although police, which has come under criticism for arresting the nun, denied that it had released any such video.
Sister Koshleniea, in-charge of Nirmal Hriday, a Missionaries of Charity-run shelter home, and Anima Indwar, a sweeper with the shelter home, were arrested last week for allegedly selling four babies.
The incident triggered a controversy as a section of opposition parties and the church questioned police action against the nun.
The police have, however, maintained that the case was filed on the basis of concrete evidence, including confessions by the accused.
The 50-second video doing the rounds on social media shows the nun replying to questions by a male voice. At one point, she says that she sold three kids and gave one more child for free.
HT could not independently verify the authenticity of the video.
Ranchi city superintendent of police, Aman Kumar, however, said they have not released any such video.
"The person who has released the video would know about it," he said.
The Catholic Bishops' Conference of India (CBCI) had on Thursday said the nun was 'pressurised' to give her statement.
Secretary general of CBCI, Theodore Mascarenhas, said that the rule of law was not being followed in the sister's case even as he had condemned the action of the other accused Indwar.
"Nobody was allowed to meet sister Koshleniea in custody. Nor was a copy of FIR against her was shared by the police for a week. Her advocate could meet her on Wednesday, eight days after her arrest only after we approached the court. During the 10 minutes interaction that the advocate could have with her, she said she was forced by the police to give her statement," he had said.
Jharkhand Vikas Morcha (P) president and former chief minister Babulal Marandi on Saturday accused the Raghubar Das government of orchestrating a 'media trial' of the baby-selling incident.
Close Story
Personalise your news feed. Follow trending topics