China says 'closely following' billionaire businessman's arrest in US
Liu Qiangdong was arrested for allegedly assaulting a Chinese student in the University of Minnesota.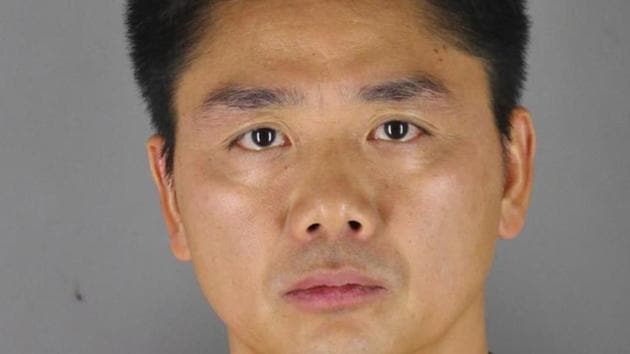 Updated on Sep 03, 2018 06:48 PM IST
Hindustan Times, Beijing |
Sutirtho Patranobis
China's ministry of foreign affairs (MFA) on Monday said it was "closely following" the arrest of one of the country's richest businessman, Liu Qiangdong, on sexual misconduct charges in the United States over the weekend.
The state-controlled media has remained mostly silent but social media is abuzz with hundreds of thousands of internet users discussing and dissecting the case.
Liu, 44, also known as Richard Liu, was arrested for allegedly assaulting a Chinese student in the University of Minnesota on Friday. Liu--founder and CEO of Chinese e-commerce giant JD.com--and who is worth some $8 billion--was released over the weekend and given permission to travel outside the US.
The MFA said it was looking into the circumstances surrounding his arrest. The Chinese consulate in Chicago was "closely following the relevant situation" and trying to verify facts regarding the situation, said MFA spokesperson Hua Chunying at the regular ministry briefing on Monday.
A Minneapolis police department spokesperson said over the weekend that the investigation was "active" but Liu hadn't been charged with a crime.
"We are confident that we will be able to get in touch with him as the time becomes necessary," the spokesperson told the Wall Street Journal.
The website of the US' Hennepin county said that he was released from custody on Saturday and the status of the charge is "released pending complaint."
"Chinese e-commerce giant JD.com's founder and CEO Liu Qiangdong was wrongly charged with sexual assault during a business trip in the US," the company said on its official Sina Weibo account on Sunday.
"Such allegations about Liu Qiangdong sexually assaulting female students are inaccurate, and the CEO will continue his trip in the US as planned, said the statement, noting that JD.com will take necessary legal action against such false reports and rumor mongering," the Global Times quoted the company statement as saying.
Liu is registered as a student in the University of Minnesota's Carlson School of Management doctor of business administration China program.
The police haven't released the name of the complainant, but Chinese social media users circulated photos of a young woman, naming her as the victim.
Hundreds of thousands of Chinese were discussing the development and it remained as Weibo's (Chinese Twitter) 'hot topic' in the last 24 hours.
"Born into a poor farming family in northern Jiangsu province, Liu is arguably less well-known outside China than his fellow billionaire countrymen like Alibaba Group Holding's Jack Ma Yun, Tencent Holdings' Pony Ma Huateng and Baidu's Robin Li Yanhong, who recently made the cover of Time magazine," the Hong Kong-based South China Morning Post reported.
Liu began his e-commerce business after he was forced to shut down a computer shop in Beijing after the severe acute respiratory (SARS) syndrome struck China, forcing people to stay indoors for weeks.
Liu's wife, Zhang Zetian, some 19 years younger, is a businesswomen and internet celebrity. At 24, she became China's youngest female billionaire in 2017.
Zhang gained instant fame on the internet in 2009--while still in school--when her photo in which she was holding a cup of milk tea went viral. Since then, she is popularly known as "sister milk tea".
Topics
Close Story