Deep inside Corbett, 'Pink Team' hunts women intruders collecting firewood, food
Team consists of five daily wagers who use sticks, torches, GPS to stop foragers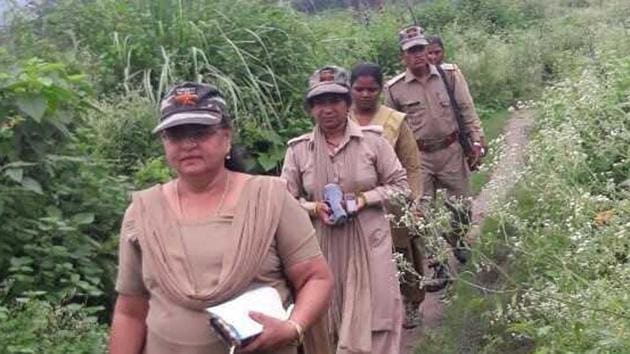 Updated on Nov 04, 2017 11:01 PM IST
A Pink Team has done what male forest guards and fearsome tigers and elephants couldn't — stop the womenfolk of Corbett's fringe villages from foraging for firewood, food and fodder deep inside the sanctuary.
The team, unofficially named after the tint associated with women power, has six members with 54-year-old forester Shahdab Alam leading the pack. She has five women hired on contract and paid daily wages to stop the trespassers. They are equipped with sticks, torches, GPS location devices and a thick register in which names of offenders are entered. These gutsy women have secured Kalagarh division, a sensitive zone in Corbett bordering UP's Bijnore forest division that is dotted with villages inhabited by mostly poor people.
"We are poor and live in huts. We don't have a cooking gas connection. We need firewood to cook," said Babli, a 30-year-old resident of Hedi Basti on the fringes of Corbett. She survived a tiger attack in 2014 when she was collecting firewood. The women go to the forest in groups and they came to the rescue when the tiger pounced on her. Almost all the 50 families in the settlement depend on the forest to survive and Babli still makes occasional sorties into Corbett, three years on.
The village women had it easy with forest guards like 42-year-old Bharat Lal, scaring them off by threatening to slap a case of molestation whenever they were stopped from entering Corbett. That prompted the park's management to form the all-women team this April. "The Pink Team is good at stopping women as well as men from entering the forest. They are daring women sworn to protect wildlife. We will form similar teams in other zones too," said Surendra Mehra, the director of Corbett tiger reserve.
In eight months, the team confiscated more than 200 scythes from the women caught trespassing. These people are so poor that they can't afford to buy a second scythe to cut grass for their livestock and the loss keeps them from venturing into the forest for some time. The team has struck fear. "Security is tight in Corbett now. We have stopped going there," said 50-year-old Mayawati, a resident of Biquiawala.
About 40 instances of trespassing were reported before in the division each month. The number dropped to about 10, said RK Tiwari, the sub-divisional forest officer in Kalagarh.
Less trespassing means fewer human-animal conflicts. Statistics show tigers and elephants killed five people since 2013 in Corbett. "A woman was killed by a tiger about 6 km inside the forest in 2013," park director Mehra said. Corbett has 215 tigers, according to a government-backed national estimate for 2014-15, the highest density in India. Though a protected forest, its 50km porous southern boundary with UP is vulnerable to unrestricted entry by wildlife poachers and villagers. Corbett has 79 forest guards on its rolls, including nine women. They are helped by teams of contract workers.
Close Story