Denied land for burial, Bihar Mahadalit buries wife's body in house
Updated on Sep 13, 2018 09:06 AM IST
Mahadalit is a special category created by the Nitish Kumar government in the state comprising the poorest among the Dalits.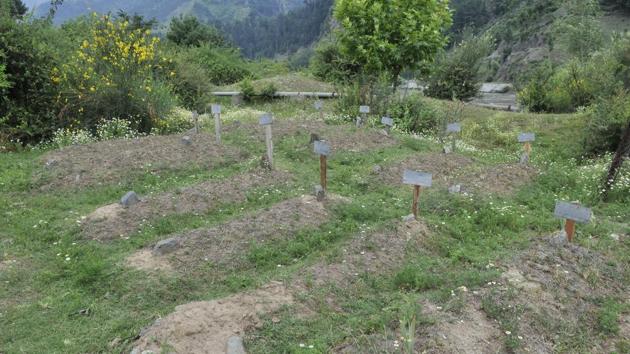 Hindustan Times, Madhepura |
Aditya Nath Jha
A Mahadalit man in Bihar's Madhepura district was forced to bury his wife inside his house after his neighbours did not allow him to cremate her on their land in the village where there is no community crematorium.
Harinarayan Rishidev, a landless daily wage earner in Kewatgama village under Kumarkhand block, said his wife Sahogiya Devi, 35, fell ill on Sunday and died a day after.
"She was suffering from diarrhoea. When no villager was ready to allow cremation on their land, I decided to bury her in my house," the 40-year-old said.
The incident highlights the plight of India's most backward and marginalised minority, who were previously known as untouchables and many continue to suffer social deprivation and economic exclusion.
Mahadalit is a special category created by the Nitish Kumar government in the state comprising the poorest among the Dalits.
Harinarayan said landless people are denied a life with dignity and even in death they are deprived of a dignified cremation or a burial.
"I do not want this to be repeated with my other landless brethren," he said demanding a separate community cremation ground in every panchayat.
Former village head Bechan Rishidev echoed Harinarayan's grievances.
"The oppressed, landless Scheduled Caste people can't rest in peace even after death. Harinarayan's agony should move the government and they should immediately come up with corrective measures else we would be forced to launch a peaceful agitation," he said.
Karo Devi of the same village said by burying his wife in his house, Harinarayan has exposed the plight of millions of Scheduled Caste people in the country where they are denied their basic rights.
Madhepura's sub-divisional officer (SDO) Brinda Lal, who along with Kumarkhand circle officer rushed to the village after being informed about the incident. "We are going to the village and after holding talks with the villagers and panchayat mukhiya, a piece of land will be identified for a cremation," Lal said.
The assurance, however, did little to pacify the agitated locals. Kailash Rishidev of the same village felt a concerted effort is needed to protect the basic minimal rights of the dead.
"I fail to understand why the government till now has failed to take a substantial step to give honour and dignity to our dead," he questioned.
"The government claims that it will provide us land and jobs but we are sceptic about their hollow claims and false promises," the former village head Bechan said.