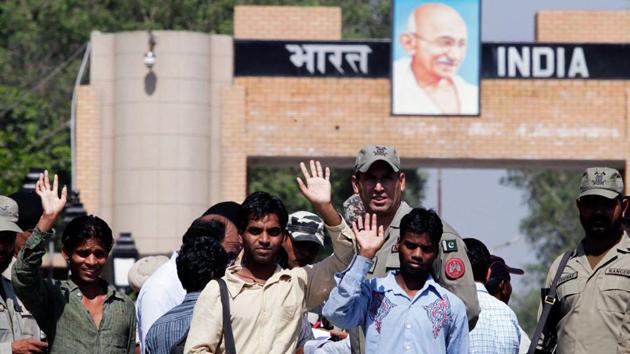 'Disclosing details of Indians jailed in Pakistan for spying will harm national integrity'
Disclosing details of Indians languishing in Pakistani jails on false spying charges would jeopardise nation's integrity and its ties with the neighbour
Hindustan Times, New Delhi | By Jeevan Prakash Sharma
UPDATED ON SEP 07, 2017 11:44 PM IST
Disclosing details of Indians languishing in Pakistani jails on false spying charges would jeopardise nation's integrity and its ties with the neighbour, the ministry of external affairs (MEA) believed.
According to Somya C, MEA under secretary- Pakistan, information on Indians like Kulbhushan Yadav, who is imprisoned in Pakistan on espionage charges, was "exempted from disclosure under Section 8 (1) (a) of the RTI Act", which exempts government from divulging information which would, "prejudicially affect the sovereignty and integrity of India" and "relation with foreign state".
HT had asked the ministry to share information on Jadav's trial along with a list of similarly detained Indians.
Experts, however, have conflicting views on whether such details threatened national security. "Denying information under Section 8 (1) (a) is untenable as the disclosing such details cannot jeopardise national security," former chief information commissioner MM Ansari said.
However, diplomat G Parthasarathy contradicted Ansari and said that information related to security prisoners would never be discussed.
A diplomat said that often prisoners are swapped through back-door deals and revealing their names would harm the exercise.
Advocate Bhim Singh, who has been fighting for Pakistani detainees in SC, said the government had submitted a list of 254 Pakistani detainees to apex court in 2016. "Doesn't disclosing names of Pakistani prisoners jeopardise the back-door swapping diplomacy or threaten nation's integrity? If not, then what's the problem in disclosing the names of Indians languishing in Pakistan jail?," he asked.
Close