Want the complete annihilation of caste: First-time MP D Ravikumar
Hindustan Times, New Delhi/Viluppuram |
Dhrubo Jyoti and M Manikandan
Jul 23, 2019 05:04 PM IST
The writer-turned-politician, who won from Viluppuram with a margin of almost 130,000 votes, has his work cut out in education and industries, especially for the impoverished Irular tribe, but says he is up for the challenge.
D Ravikumar often jokes that his political journey began when he was six.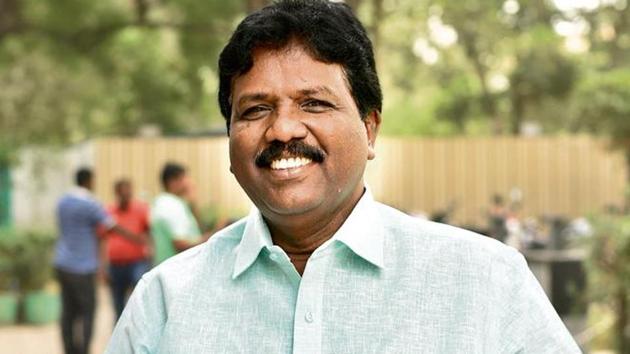 In his first month as a Class 1 student in Tamil Nadu's Nagapattinam district, Ravikumar met a passionate teacher who taught Tamil. As a young Ravikumar struggled to master the difficult alphabet, his teacher, Kanniyan, used rationalist ideology to get through to his student. "He taught me to write 'There is no God'. Those were the first words I wrote," he said, laughing.
It was the late 1960s and Tamil Nadu was ablaze with protests against the central government's "imposition" of Hindi language and the rationalist movement.
His parents were marginal farmers, and Ravikumar spent five hours every day on a train travelling between school and home. He spent this time reading through small books in Tamil that his teacher had suggested to him. "When Annadurai died in 1969, my teacher and I cried together in school. Politics was becoming a part of me," said the 58-year-old first-time MP from Tamil Nadu's Villupuram.
By the time he graduated high school and entered Annamalai University, Ravikumar had read Karl Marx and BR Ambedkar, and slowly drifted towards the Left parties. "But after I joined them, I was disappointed. I saw they had no clear idea of what caste was," he said.
Stung by the progressive activists' vacillation towards caste, Ravikumar started working with human rights groups, and by the early 1990s, established himself as an activist in Tamil Nadu. His work anchored him to the northern parts of the state where several atrocities against Dalit communities had flared up.
It is here that he met Thol Thirumavalavan, a lawyer who was part of the Dalit Panthers and had started the Viduthalai Chiruthaigal Katchi (VCK), a party focused on the uplift of Dalits and other marginalised sections. At the time, the VCK boycotted polls because it believed the electoral system was stacked against the lower castes, but formally entered electoral politics in 1999.
"I persuaded them to participate. My experience taught me that Dalit people get some rights through electoral politics," he said. Despite rising to the position of general secretary of the party, Ravikumar was a reluctant politician and preferred his books and poetry — he co-founded the noted publishing firm, Navayana, in 2003 — to the grime and uncertainty of campaigning.
His election to the Tamil Nadu assembly from Kattumannarkoil in 2006 began with a sleight of hand by his party chief, who proposed his name without checking with Ravikumar. "I told him I was not comfortable with elections," he said.
Comfort zone
The past month has been a whirlwind for the writer-turned-politician who won from the constituency reserved for scheduled castes (SC) with a margin of almost 130,000 votes. His party, VCK, was part of the DMK-led opposition alliance and he fought on the Dravidian giant's popular rising sun symbol.
Operating from a room crammed with papers and books in Delhi's Tamil Nadu Bhavan, the MP has made interventions in Parliament on subjects as diverse as dam management in southern India, scholarships for Dalit and adivasi students and the data protection regime.
The legislative arena is his comfort zone, he confessed, and the reason he waded through the "uncomfortable" process of electioneering at the height of summer this year. "I have a more broad-based agenda. From Day 1, I concentrated on national issues," he added.
Ten days after his swearing in — which he insisted on doing in Tamil — Ravikumar introduced a private member's bill on data protection and privacy. He followed up with seven questions in the Lok Sabha on topics ranging from the delayed publishing of National Crime Records Bureau to crop support prices.
He also met finance minister, Nirmala Sitharaman, to press her on increasing allocation for SC-ST communities and an airport in his constituency.
Most of Ravikumar's legislative prowess comes from his stint as an MLA, when he was crucial in pushing through an e-waste policy for Tamil Nadu and played a key role in setting up six government welfare boards, including one for transgender people and another for domestic helps. "I thought that if I enter Lok Sabha, I can benefit more people. I can have an impact all over India."
He runs a Tamil research journal, Manarkeni, that focuses on art history and philosophy, and spends his free time reading and translating French philosophers, Michael Foucault and Jean Baudrillard, and postcolonial icon, Edward Said, to Tamil.
The long hours of heated debate in the Lok Sabha has forced Ravikumar to cut back on his literary pursuits, and his only moments of unwinding has been a trip to the Qutub Minar and watching the final of the ICC cricket World Cup, in which the team he was supporting, New Zealand, suffered a heartbreaking loss.
From education to airport
Situated in the northern Tamil Nadu, Viluppuram is ravaged by an agricultural crisis and water shortage.
Half of the land in the district is used for farming and the region is known as the rice and sugar bowl of the state.But three consecutive poor monsoons have robbed farmers of their income. "Middlemen are making syndicates and procuring paddy at a low cost from us," said L Ramasamy, a farmer. This year, the rainfall has fallen short of the average mark by 50%, and groundwater levels have plunged. "De-silting work was not done properly, so Viluppuram is facing a severe water scarcity," said Ravi Karthikeyan, a resident.
Ravikumar also has his work cut out in the areas of education and industries, especially for the Irular tribe, who find themselves lagging behind the general population. "More than 30,000 Irulars are residing in Villupuram. But, they are still poor in education and sanitation," said SR Lucina, an activist.
But Ravikumar says he is up for the challenge.
"I have three [areas of] focus: first constituency; second state; and third nation. I have already pushed for an airport, and a desalination plant to ease the water crisis," he said. He has instituted a scholarship for SC-ST women students, and ordered that a hostel be built for them. The problem area of agriculture, he admits, is too big an area for an MP to resolve. "But I plan to invite experts to sensitise farmers about modern methods and making farming viable."
Annihilation of caste
To the outsider, Tamil Nadu presents a paradox. The state is the fountainhead of the rationalist movement that sought to end Brahmanical domination. And yet, it leads the nation in sanitation worker deaths, and cases of caste-based atrocities are prevalent.
"Tamil Nadu is very casteist in character. Caste is the main thing in everyday life," Ravikumar said. He reasons this held a lesson for the two main Dravidian parties, who need to accommodate marginalised sections, and follow the teachings of Periyar and Ambedkar.
Viluppuram has a history of caste discrimination and the politician himself faced hostility from the Pattali Makkal Katchi (PMK) during the campaign. The PMK, controlled by the dominant Vanniyars, sought to polarise the electorate along the lines of caste and project Ravikumar as only a leader of Dalits.
"Despite having a large following, our leader Thirumavalan, who fought on our own symbol, won by just 3400 votes. It shows the lack of acceptance for independent Dalit leaders," he reasoned.
Ravikumar worries about the government's approach towards Dalits, and says vocational and skill-based training will push the marginalised community towards traditional occupations. "Why can't you push Dalits in artificial intelligence?" His dream is for the complete annihilation of caste, when Dalits will not need a party to espouse their case. "Dalits want to read philosophy but society forces us to read data of killings. When will this end?"