HP's largest wildlife sanctuary to let dogs out to tackle staff shortage, wildlife crime
The dogs are being trained by the Word Wide Fund for Nature, an international NGO working towards nature conservation.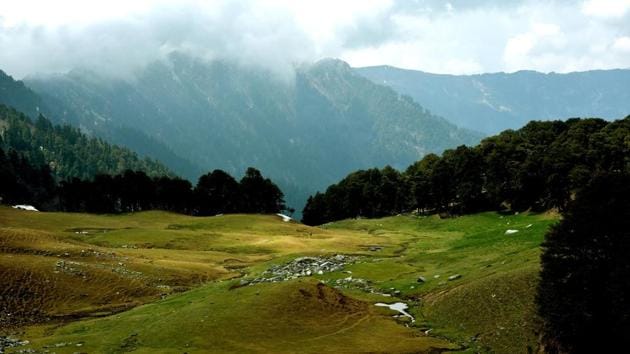 Updated on May 17, 2018 09:38 PM IST
Himachal Pradesh's biggest wildlife sanctuary, Great Himalayan National Park (GHNP), which has been reeling under staff shortage, has come up with a solution to the problem.
The sanctuary in Kullu district has raised a dog squad to keep a check on wildlife crime. Presently, the park is manned by 25 guards and three forest rangers.
DOGS ON JOB
"We have staff shortage, to curb which, we have inducted three German Shepherds that will track hunters and herb collectors," said RS Patial, director, GHNP.
The dogs are being trained by the Word Wide Fund for Nature, an international NGO working towards nature conservation. The training of the dogs and their handlers is being carried out at National Training Centre of Dogs, run by Border Security Force (BSF) in Gwalior.
Patial added, "In the second batch, we will have two more dogs trained. This is for the first time in India that a sniffer dog squad is being deputed at such a high altitude area. Dogs are being trained to sniff leopard skins, birds' plume and bear biles."
He further said, "Leopard bones are widely used in the traditional medicines while bears that have large gall bladder are used to treat liver and gall bladder conditions in humans. Also, rare birds like western Tragopan and Monal are killed for plumes, usually worn on Himachali caps."
RICH FLORA AND FAUNA OF PARK
The Great Himalayan National Park, spread over 1,160 square kilometres, is located in the Banjaar sub-division of Kullu district in the far western Himalayas and boasts of a large variety of flora and fauna.
However, the rich flora and fauna face threats from local villagers who venture into the woods to collect rare exotic herbs. "GHNP is home to 832 floral species of which, 34 are highly endangered. Himalayan blue poppy, which is used for herbal medicines, is also found here," the GHNP director said.
The sanctuary area, which was formally notified as a national park in 1999, is a relatively recent addition to a network of protected areas in north India and adjacent countries that provide protection to the Himalayas.
"The local herbs available in the sanctuary have high value in international markets," said Patiyal, adding, "These include herbs like Nag Chhatri and Himalayan Trillium that fetch around ₹70, 000 per kilogram."
STEPS TAKEN TO PROTECT WILDLIFE
In a bid to protect the wildlife, the state government had banned hunting of animals in 1982, while the area between Sainj and Tirthan, which is also a habitat to many endangered animals, was declared protected in 1984.
The park is also home to 209 bird species among which, four are considered highly endangered, including Western Tragopan, Koklass, Cheer Pheasants and Monal. Besides, the park also houses endangered mammals like Snow Leopard, Serow, Himalayan Thar and Musk Deer that is hunted widely for its musk pod, which is used in manufacturing perfumes and colognes.
VULNERABLE TO WILDLIFE TRADE
"The GHNP staff had recently raided a house in Skati village on the outskirts of the sanctuary and recovered a hide of leopard and the plumes of Monal that was crested in silver, following which, the police arrested a local villager and registered a case under relevant sections of the Wildlife Protection Act and the Forest Rights Act.
"We are trying to establish his links with wildlife traders in other states," said Kullu superintendent of police Shalini Aghnitori.
FACT FILE
• The Great Himalayan National Park was declared a Unesco's world heritage site on June 23, 2014.
• It provides home to four globally-threatened mammals — snow leopard, serow, Himalayan thar and musk deer
• Four globally-threatened birds, including western tragopan, koklass, cheer pheasants and a large number of medicinal plants are also found here.
• 10% of the world's known plant species grow in the national park
• It is also a habitat to 832 plants species, representing 128 families and 427 genera. Besides, it is home to 34 of the 47 medicinal plants categorised as threatened in Himachal Pradesh.
• The upper part of its forest zone holds the world's largest known population of the western tragopan.
Close Story
Personalise your news feed. Follow trending topics