In Himachal Pradesh school bus accident, a miraculous escape amid heartbreaking loss
Updated on Apr 10, 2018 02:38 PM IST
Twenty three children and four adults were killed after a school bus fell into a gorge near Nurpur in Kangra district of Himachal Pradesh on Monday.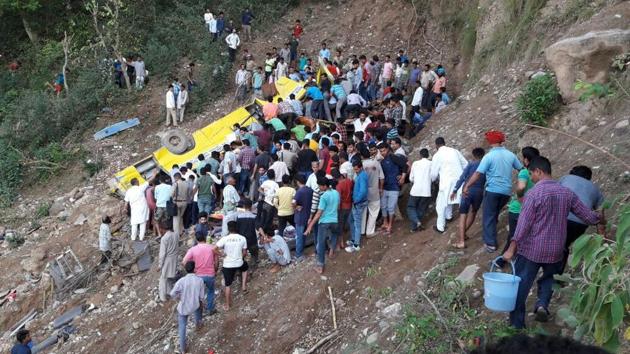 For 10-year-old Ranveer Singh, it was a miraculous escape after his school bus fell into a gorge near Nurpur in Kangra district of Himachal Pradesh on Monday.
Twenty three of his schoolmates and four adults died in the accident, according to police. But Ranveer and a girl sitting next to him were thrown clear through a window after the bus had rolled down around 25-feet.
"I heard a loud bang and bus starting rolling down the hill. Just then the window near my seat broke and I and a girl sitting by my side fell out," said Singh, who has been admitted to a hospital in Nurpur, some 300 km from the state capital Shimla.
Singh was calm and composed. He said the accident occurred in a fraction of second and he can't recall how it actually happened. "The moment when it happened, I was looking at a bike passing by," he said.
Eyewitnesses said the bus, carrying around 40-45 passengers, fell into the gorge after the driver lost control while negotiating a sharp curve in the road.
Other were not so lucky as Ranveer.
A rescuer, who identified himself as Kaka, said it was the first day of school for a 5-year-old boy who died in the accident. A teddy bear was still in the boy's hand when rescuers retrieved the body.
Some of the accident victims are siblings. Naresh Kumar lost both his son Naitik and daughter Shrutika. "I had never thought that they would never return," said Naresh, who was inconsolable while trying to overcome the shock and trauma.
Another family lost three children, rescuers said. Most of the deceased belonged Sulyali, Ther, Puhara and Gatla.
The children were initially rushed to the Nurpur civil hospital in private cars and bikes, said Anish Pathania who was involved in the rescue operations. Later, ambulances shuttled between the site of the accident and the hospital in Nurpur and one in Pathankot, where the critically injured were taken.
At the Nurpur hospital, parents broke down in grief as they identified bodies of the deceased. A large crowd gathered, with relatives making frantic calls to near and dear ones.
Political leaders turned up to console the families and monitor the situation. The leaders included food and civil supply minister Kishan Kapoor, urban development minister Sarween Chaudhary, Nurpur MLA Rakesh Pathania and former MLA Ajay Mahajan.
Close Story
Personalise your news feed. Follow trending topics