In letter to Vatican, Kerala nun calls bishop accused of rape a predator; priest claims conspiracy
A nun has accused Bishop Franco Mulakkal of raping her 13 times over two years, a charge the priest has denied as a "conspiracy against the church".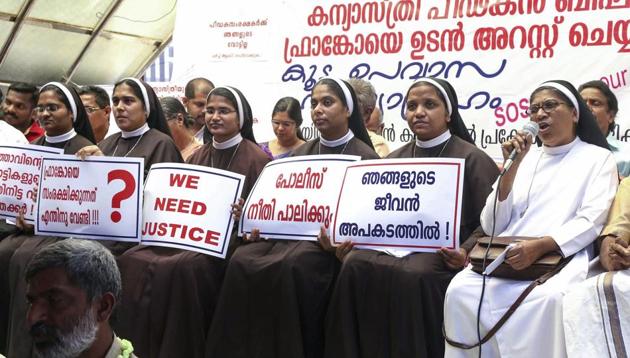 Updated on Sep 11, 2018 08:32 PM IST
A 43-year-old nun who has accused a bishop in Jalandhar of sexual assault on Tuesday released a seven-page letter to Vatican's India Ambassador in which she accused church officials, including Pope Francis, of ignoring her complaints.
The nun, who now lives in Kerala's Kottayam district, has alleged Franco Mulakkal, the bishop of the Roman Catholic Diocese of Jalandhar, assaulted her after summoning her on the pretext of discussing an important issue in 2014. He later allegedly raped her 13 times in the next two years. Mulakkal, 54, rejected the allegations, calling them a conspiracy against the church.
"Though the Bishop had sexually abused me several times I could not reveal the full story to my superior general or to her councilors. I only told them repeatedly that the Bishop is taking many disciplinary actions through them just because I resisted to lie down with him," said the nun in a letter written on September 8 and released to the media Tuesday.
"As they failed to understand seriousness of these words I could not tell them more than this. And I had the fear that Bishop Franco may harm me with the support of my superiors," she said in her letter to The Apostle Nuncio of India, the Pope's ambassador.
She alleged that she had written to the Pope in Vatican, his ambassador in India, and other church officials but no action was taken against the bishop. In May 2018, she said, she sent three letters to Rome including Pope Francis but didn't get any reply.
Calling Mullakal a predator, she alleged at least 20 nuns were forced to leave the congregation due to his sexual advances.
"Bishop Franco had always an eagle's eye on few other sisters of the Missionaries of Jesus congregation. Whichever sister he felt attracted to, he tried to put them in his trap by force or taking advantage of their weaknesses," she alleged. She and other nuns were allegedly named in fake complaints when speak up against his sexual harassment.
"They are arranging people to attack us and Bishop Franco is using his political power and money to get higher authorities of the investigation and the government to bury legal proceedings that I have filed against him."
Mulakkal told news agency ANI in Jalandhar he will cooperate with the law.
"I think some internal forces are using these nuns for some advantage. The antis in the church are pushing these nuns forward to raise their own issues. There is a conspiracy behind this. Few people are taking advantage of this. I will cooperate to all legal measures," he said.
Nuns who are on a dharna in Kochi to press for Mulakkal's arrest said they will shift their protests to the state secretariat in Thiruvananthapuram if their protests are not heeded. They rejected allegations that external forces trying to discredit the church had fueled their protests. "The Bishop is heading the congregation so it is natural such charges will come out," said Sister Anupama.
Close Story