Woman killed in encounter between security forces, militants in J-K's Anantnag
Some unconfirmed reports suggest presence of a top Lashkar-e-Taiba militant in the house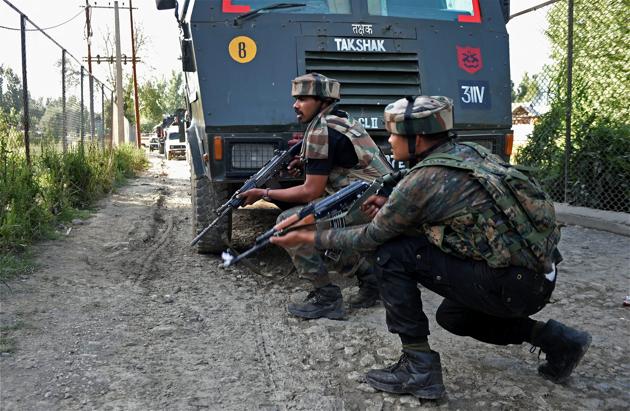 Updated on Jul 01, 2017 09:34 AM IST
A civilian woman was killed on Saturday morning, allegedly in a crossfire between security personnel and militants in south Kashmir' Anantnag.
Police said gun battle is still on at Birnhi Batpora in the state's Dailgam district as some militants are holed up in a house. Many civilian too are inside the house.
According to a police spokesman security forces cordoned off the area in the wee hours after receiving specific information about presence of militants there.
Sensing the security presence, the militants opened fire at the security personnel, prompting the latter to retaliate.
"In the cross fire one lady was hit and later she succumbed to her bullet injuries,'' the police spokesman said.
Efforts are on to take out the civilians, the spokesperson added.
Some unconfirmed reports suggest presence of a top Lashkar-e-Taiba (LeT) militant in the house.
Last week suspected LeT activists fought a pitched battle with security forces for 14 hours after they took shelter in a school after ambushing a CRPF convoy on the outskirt of Srinagar.
Two militants were killed and two security personnel sustained injuries in the counter-insurgency operation to clear the school complex.
Close Story
Personalise your news feed. Follow trending topics