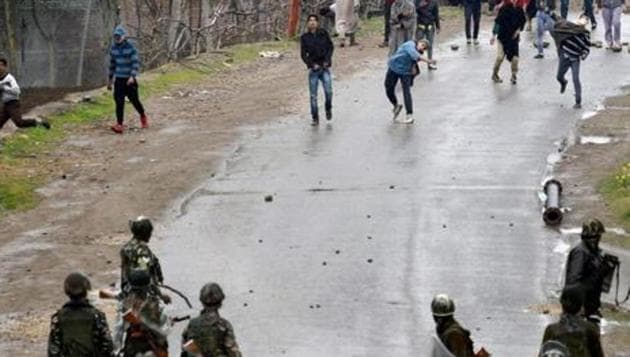 Mehbooba, Omar condemn tourist's death in stone pelting, call it 'heartbreaking'
Chief minister Mehbooba Mufti and opposition leaders as well as separatists have reacted with contempt and anger after a tourist from Chennai died after being hit by a stone.
Hindustan Times, Srinagar | By Ashiq Hussain
UPDATED ON MAY 08, 2018 04:21 PM IST
The death of a tourist from Chennai in a stone pelting incident in Kashmir on Monday has evoked outrage in the Valley.
Chief minister Mehbooba Mufti and opposition leaders as well as separatists have reacted with contempt and anger against the perpetrators while social media, despite suspension of mobile internet since Saturday, was awash with regret.
R. Thirumani, a 21-year-old tourist from Chennai, was hit by a stone on his head during a stone pelting incident on the Srinagar-Gulmarg road in Narbal area of central Kashmir on Monday when Kashmir was observing a shutdown. He was taken to the Sher-i-Kashmir Institute of Medical Sciences where he succumbed. A girl from northern district of Kupwara was also injured in the incident.
"It's truly heartbreaking when a family saves for years to realise their dream of visiting Kashmir & while they are here they face their worst nightmare. I have no words strong enough to condemn this tragic incident or even begin to condole the family," Mufti wrote on Twitter.
She had gone to meet the family at SKIMS on Monday night and expressed her regret. This happened on a day when she inaugurated the opening of civil secretariat after working six months in Jammu but was greeted with deserted roads and markets against deaths of five militants and as many civilians who were killed in south Kashmir's Shopian on Sunday.
"Without a sustained, meaningful dialogue & outreach, not just from the govt [sic] but from the entire country, J&K will get pushed deeper into this vortex of gloom. My deepest condolences to the deceased's family & my prayers go out to the girl who was injured in the same incident," she said.
Moderate separatist leader Mirwaiz Umar Farooq who was placed under house detention after calling for protests against the Shopian deaths, termed the incident as "hooliganism".
"Deeply saddened by the news of death of a tourist due to stone pelting. Condemn such hooliganism and rowdiness. It is totally against our ethos of treating tourists as respected guests and brings a bad name to the peoples movement," Mirwaiz wrote on Twitter.
Opposition leader Omar Abdullah also took to Twitter to express regret. "This young man from Chennai died in my constituency & while I don't support these goons, their methods or their ideology I'm deeply, deeply sorry that this happened at all & that too in an area I've been proud to represent since 2014," he wrote.
In New Delhi, defence minister Nirmala Sitharaman condemned that stone pelting that lead to Thirumani's death.
"Absolutely unfortunate. For a tourist to be killed is absolutely condemnable," she said.
Defence minister Nirmala Sitharaman in Delhi said the incident was "completely condemnable."
"I am sure the chief minister (Mehbooba Mufti) herself is keen on getting more tourists to Kashmir because that will also help in restoring normalcy. So, if that has been a stated desire, for a stone pelting incident to have hurt and killed a tourist, it's certainly not very conducive to that," she said.
On May 2, three children were injured, one seriously, after a group of stone-pelters attacked their school bus in Shopian district. That incident too triggered an outrage across the Kashmir valley.
In February, the Jammu and Kashmir government approved withdrawal of cases against 9,730 stone pelters.
The decision to grant amnesty to stone pelters has been criticised by many outside Kashmir who say that such a decision would only encourage such elements.
On Saturday, the state's deputy chief minister Kavinder Gupta said amnesty was granted to prevent them from going astray.
"They are our youth, our children and we don't want them to go astray. So, the government made an attempt to bring them back, which is a positive step. If they are found involved again, then they really need to worry for themselves....The step has borne some results, but a lot remains to be done," Gupta had said.
(With ANI input)
Topics
Close