Many heroes forgotten just to glorify members of one family: PM Modi in Madhya Pradesh
Hindustan Times, Rajgarh |
Punya Priya Mitra and Shruti Tomar
Jun 23, 2018 11:09 PM IST
Prime Minister Narendra Modi accused Congress of spreading lies, negativity and disillusionment in the country while speaking at the inauguration of the Mohanpura dam in Rajgarh.
Prime Minister Narendra Modi on Saturday took a veiled dig at the Gandhi family by stating that the contributions of many "heroes of the country", including Jana Sagh founder late Syama Prasad Mookerjee, were suppressed to "glorify one family".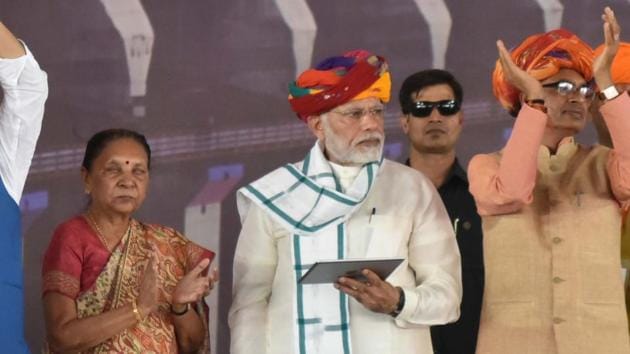 Modi was in Rajgarh, 80 km north of Madhya Pradesh capital Bhopal, to inaugurate the Mohanpura dam, built in four years at a cost of ₹4,000 crore. The water from the dam is expected to irrigate 1.25 lakh hectares of land and provide drinking water to 400 villages.
Without taking the 'Gandhi' name, Modi said, "Many heroes of the country had been wilfully forgotten just to praise and glorify the people of one family and Syama Prasad Mookerjee was one of those forgotten heroes."
Praising Mookerjee, whose death anniversary was on Saturday, Modi said, "His thoughts were way ahead of his times. The Make in India programme is part of his vision to make the country self-reliant, because he understood its importance for the country's progress."
Modi also said that country's industrialisation, nuclear programme flowed out of Mookerjee's vision to make the country strong. "As the country's first industries minister, he showed the way to progress and his thoughts on education, health and security are still relevant today," the PM said and added that the Bharatiya Janata Party (BJP) government is following the Mookerjee's vision.
Accusing the Congress of spreading lies, negativity and disillusionment in the country, he said that the presence of so many people in the programme clearly shows that the people have trust in the development and beneficial schemes of the BJP government carried out during the past four years.
Later, speaking at a 'Shahri Vikas Mahotsav' in Indore where he gave awards to the municipal bodies of Indore, Bhopal and Chandigarh, which were ranked 1st, 2nd and 3rd in the Swachh Survekshan 2018, Modi hit out at the Congress for the "chaotic situation in urban areas in the country and lack of transparency in implementation of government schemes during its regime in the past".
He said no attention was paid to the cities even after so many years of Independence. The result was population in cities continued to grow but basic amenities were not put in place to cater to people's need, he said.
But, he said since the BJP-led National Democratic Alliance (NDA) came to power in 2014 it started working on cities' infrastructure as per their need in the 21st century. In the past 4 years, the NDA government sanctioned works worth Rs 2.30 lakh crore whereas the Congress government during its 10-year rule had sanctioned works worth Rs 95,000 crore.
Modi said it was the result of the government's policies that those wearing slippers were travelling in planes today. About 10 crore people travelled aboard planes i.e. people travelling aboard planes exceeded those who travelled in AC trains last year, he said.
Madhya Pradesh chief minister Shivraj Singh Chouhan in his address took a dig at Congress president Rahul Gandhi and his Mandsaur farmers' rally on June 3, where he had said that farmers were in pain and distress in the state.
"A man had come to Mandsaur a few days ago and said that farmers are angry and upset, but your presence in such large numbers shows that you are not angry," Chouhan said.
Reacting to Modi's remarks against his party, state Congress media coordinator Narendra Saluja said, "Howsoever Modi ji may make efforts to mislead people with his lies and 'jumla', he cannot succeed in his design. For, people have understood him well. They also know well that it's Congress plan, policies and work during its rule in the country that the country stands as a world power today."
In Indore, Modi launched projects worth Rs 5,800 crore across Madhya Pradesh and he also inaugurated a new bus service in the state. On the occasion, about one lakh people across Madhya Pradesh were provided houses under the PM Housing Scheme.