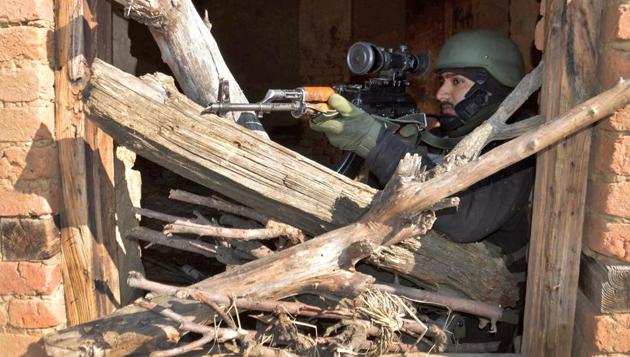 Militant killed in Anantnag encounter was from Telangana
The Ansar Ghazwatul Hind (AGUH) – an outfit with alleged link to the al-Qaeda in Kashmir said the slain militant was Muhammad Taufeeq from Hyderabad.
Hindustan Times, Srinagar/Hyderabad/New Delhi | By Abhishek Saha,Srinivasa Rao Apparasu and Azaan Javaid
UPDATED ON MAR 14, 2018 11:49 PM IST
Police in Telangana confirmed on Wednesday that an alleged militant killed in south Kashmir's Anantnag district this week belonged to the southern state, confirming speculation that a citizen outside of the Jammu and Kashmir region had been radicalised.
The man, identified as 26-year-old Taufeeq, was among three killed in an encounter with security forces on Monday night. His identity had been unknown and an investigation was launched after an al Qaeda-linked organisation claimed to disclose his identity and origin.
"It is learnt that Md Taufeeq, age 26 years, N/O (native of) Manuguru [in Telangana] died in an encounter with security forces on night 11/12 March in Hakoora of Anantnag district along with two other Kashmiri militants. He was radicalised in to Islamic state ideology through social media and went to Kashmir to participate in terrorist activities of ISIS," a press note from Telangana police said.
It continued, "He was not wanted in any of the criminal cases in Telangana state. Further details are being verified and will be updated to the media accordingly."
This is only the second time since 2008 that militants from another Indian state have been killed in Kashmir.
The other alleged militants, gunned down in the Hakoora area of Anantnag district, were identified as Eisa Fazili and Syed Owais Shafi.
Jammu and Kashmir police had not said anything about the identity of the third militant but on Tuesday the Ansar Ghazwatul Hind (AGUH) – an outfit with alleged link to the al-Qaeda in Kashmir, said the slain militant was Muhammad Taufeeq from Hyderabad. The Qaeda's Kashmir unit is led by wanted militant leader Zakir musa.
Earlier in the day, an intelligence bureau officer confirmed that they were looking into claims made by AGUH.
According to a pamphlet by the AGUH, available online, Taufeeq joined militancy in 2017 after coming to Kashmir from Hyderabad.
"Responding to the call of shariat or shahadat (martyrdom), Mohammad Taufeeq started his jihadi journey in 2017 after making hijrah (migration) from India's Hyderabad city to the mountains of Kashmir and was among the first in the ranks of Ansar Ghazwatul Hind," the pamphlet said.
The outfit added that Taufeeq's "jihadi names were Sultan Zabul Al Hind and Abu Zarr Al Hindi".
The body of the militant, which was not claimed by anyone, was buried in a graveyard for foreign militants in the Gantmulla area of north Kashmir's Baramulla district on Tuesday night. A police officer handling the case said the militant's DNA has been preserved to help ascertain the identification process.
Police have also refused to say anything on the Ansar Ghazwatul Hind though security officials say that militants from different outfits work in tandem in south Kashmir.
Fazili and his associates were allegedly involved in the killing of a policeman in Srinagar last month and the terror-outfit Islamic State (IS) had claimed responsibility for the attack.
However, another militant outfit, the Tehreek-ul-Mujahideen (TeM), identified the third militant as Sabzar Ahmad Sofi.
In a statement carried by a local news agency, the TeM said Fazili was its district commander and identified another militant as Syed Owais Shafi, who allegedly belonged to the Hizbul Mujahideen.
Jammu and Kashmir police say there is no concrete evidence of IS presence in Kashmir but acknowledged that there could be individuals influenced by the outfit's ideology.
Counter-insurgency expert, Ajai Sahni, said that people from other parts of India joining militancy in Kashmir are "aberrations" and not frequent occurrences.
"The development is worth examining but it definitely is not a pattern. In three decades of Kashmir insurgency, number of occasions where youth from Indian cities joined Kashmir jihad is almost negligible," Sahni said.
Close