'New airlines now being born rather than shutting down': Jyotiraditya Scindia
Updated on Nov 24, 2022 07:56 PM IST
Union civil aviation minister Jyotiraditya Scindia spoke to Hindustan Times about the growth in the aviation sector, potential disinvestment of Alliance Air and broadening the Indian aviation space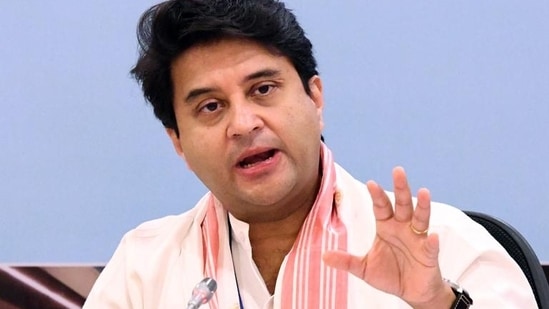 Union civil aviation minister Jyotiraditya Scindia spoke to Hindustan Times about the growth in the aviation sector, the potential disinvestment of Alliance Air, new opportunities, and broadening and deepening the Indian aviation space, among other issues. Edited excerpts:
How do you see calendar year 2024 panning out for Indian aviation in terms of growth?
In 2019-20, we had an overall passenger traffic of roughly about 200 million passengers. We're almost at pre-Covid level of 12 million per month as far as domestic air traffic is concerned. International passenger traffic, however, is taking time. It is shocking that the demand constraint has now turned into a supply constraint internationally. They just are not enough planes. But having said that, we've finally achieved 1,000 flights a day in the international sector on November 20. So we are seeing very strong green shoots in the international sector as well.
My forecast is that this sector is going to grow by leaps and bounds in India mainly because of the Prime Minister's impetus on increasing connectivity; both broadening it as well as deepening it. We have moved full focus from tier 1 cities to also increasing focus on tier 2 and tier 3 cities. For the last 10 months, we have been increasing our focus on the last-mile connectivity as well. Today we have capacities of roughly 70 million at Delhi airport which will go to 100 million by the end of this year or early January. We will come up with Jewar airport by 2024, which will initially add 12 million capacity, eventually going up to 60 million. If you look at Mumbai, the airport is capped out at roughly 60 million today but they are building a new airport in Navi Mumbai at roughly 50 million capacity. Bengaluru airport has gone from 25 million to almost 60 million capacity. Chennai has gone from 25 million to about 44 million, and similarly Kolkata too has increased its capacity.
If you look at these five metros, you're going to go from 190-200 million to almost 420 million passenger traffic over the next five to six years. Similar growth rate is being seen in tier two and tier three cities as the growth rate between 2010 and 2015 was roughly at 11.5% CAGR, that growth rate is now 33.6% CAGR. So there is a very strong underpinning of growth from tier two, tier three cities also for civil aviation and the fact that through UDAN (Udey Desh ka Aam Naagarik), we're building these galaxy of airports in tier two, tier three cities will also lead to a huge follow-on demand into the sector. The best example is the recently established connectivity in the North-East, from nine airports in 2014 to 16 airports today.
There is a whole gamut going from wide-bodied aircraft internationally, to narrow body aircraft domestically, to ATR 72 and Q400 family to ATR 42, down to Dornier 228. So that is the breadth of civil aviation that you're seeing today, and then finally, helicopters too.
Do you think that the growth in domestic aviation has been impacted due to the supply chain issues being faced by the industry?
Supply chain is certainly an issue for civil aviation but certainly it's a global and not local issue. A sector that was actually cutting back on employees, human resources because orders were not coming in, today is flooded with orders and just didn't have enough resources to pump out those planes. The same thing is happening with the OEM (original equipment manufacturer) suppliers, engines, and so on. Having said that, there is a preponderance and a greater focus that we have within India for aircraft manufacturing and for engine MROs. Evidence of that is that with the C 295 facility, put in place by PM Modi, Airbus for the first time ever is putting such a huge footprint in India. We're going to manufacture 40 out of the 56 C295s at Baroda airport which is going to pull in tremendous amounts of technology with almost 30,000 parts being produced locally and 4000 subassemblies being produced locally. Companies like Bharat Dynamics and Bharat Electronics will give all the strategic facilities online in terms of radar avoidance and things like that for the C 295. So, there's major integration happening, and at the same time, we've got fuselages of the Apache being built in Hyderabad. Tata Boeing is putting in place empennages for the C 130Js as well as 737 complex structures are being built in their facility. Saffran has now come in and is putting in a big footprint of $150 million to set up an MRO facility in India for the CFM engines. Civil aviation is not about planes and airports alone, it's about the whole ecosystem and now we have the scale in India.
The government has initiated the disinvestment process of AI Engineering Services Ltd. (AIESL) and Air India Air Transport Services Ltd (AIATSL). When is the EOI expected and how hopeful are you of completing the process?
We are starting roadshows for both AIESL and AIATSL, we're starting to evince investor interest on that, and this process is going to take its time. Both DIPAM (Department of Investment and Public Asset Management) and the aviation ministry are working together. However, the process is very much on because that decision is full and final. In many ways, there's tremendous embedded value in those companies. So I think there should be a great degree of investor interest . To be candid, this is something that is being led by people. I would say that both these companies are very much on the anvil, and we are pursuing it tremendously. But I can't give you a fixed date.
Alliance Air is facing a number of challenges after the privatisation of Air India. Are you looking at putting the regional airline also on the block?
Alliance Air is definitely slated for disinvestment. In the interim, it's doing its job in terms of connectivity. It's doing its job of flying routes, for example, a lot of North-East routes are operated by Alliance Air. So, in the hinterland whether it's northeast or hilly states, Alliance Air does some of the routes with regard to the ATR 42 aircraft, as well. But it certainly is slated for divestment.
Government had sounded quite buoyant about Jet Airways revival after Jalan-Kalrock won the bid. But more than a year after the airline remains on ground and there seems to be a standoff between the lenders and consortium.
I think they're putting their consortium and their process together. Hopefully, by mid next year they will be able to commence their operations. I certainly hope that it takes to the air sooner rather than later. Akasa Air, as we know for the first time that we've actually seen the birth of an airline in India, as opposed to the shutting down of airlines, which we've been used to for the last two decades. Certainly, fundamentals are changing. But having said that, there are tremendous cost pressures on airlines, especially with regard to air turbine fuel (ATF), which still has to flatten out on its curve from a pre-Covid basis. But as long as the trend is declining, it's important.
Recently, the US transport department has imposed a penalty on Air India for not refunding passengers on time for flight delays. Are you going to revisit the flight ticket cancellation and refund policies?
We have a grievance redressal mechanism, Air Sewa, that was put in place by me when I came in. On a daily basis, I monitor the complaints that have come in and the redressal by airline companies. So, within our ministry, we have a system in place where if one has a backlog of tremendous amounts of grievances that one has not addressed, then we approach the airline and ask them to process the refund quickly. That system is 24x7. A lot of these refund issues also come up on this, which is what we process very rigorously.
Are your concerns over the recent air incidents sorted out?
From our point of view, DGCA, as a safety regulator, is very hands-on in terms of the number of tests and the surveillance that it does in its ASP (annual surveillance plan). Under my watch, over the last one year, we have increased the surveillance, and the number of random checks, tests, engineering evaluations from a figure that was around 2,002 on an annual basis, to around 3,194 this year which is an almost 50% increase. With regard to the number of instances that you've talked about, whenever those have happened, there have been very clear tests on both the engine and the airframe side of those aircraft, and action has been taken wherever it's been warranted. On the human resource side as well, there was an earlier requirement of a certain level of engineering staff at every station, which about four or five years ago had been slightly relaxed. Since I've taken over, I've brought back the earlier norm of having a much higher level of engineering staff at every location of every airport for every airline company in terms of the checks prior to the next take-off. I believe in ensuring as much as possible a six-sigma approach with regard to both safety and security, and there will not be any compromise with regard to safety and security.
Enjoy unlimited digital access with HT Premium
Subscribe Now to continue reading
Topics
Personalise your news feed. Follow trending topics