No idea what influenced teenage suicide attacker, says Fidayeen's family
Updated on Jan 05, 2018 07:55 AM IST
Slain Kashmiri militant Fardeen Ahmad's relatives said he showed no resistance against the state and was in fact, quite close to his father who serves as a head constable in the state police.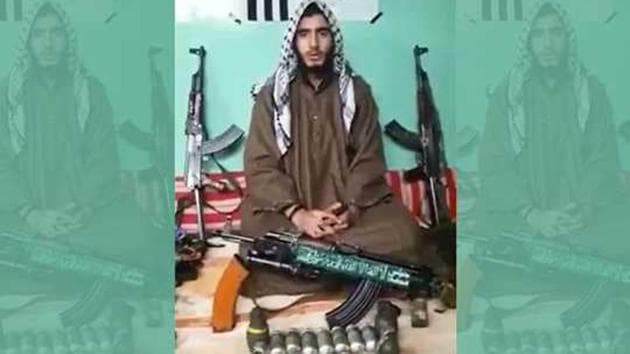 Hindustan Times, Tral |
Toufiq Rashid And Abhishek Saha
A large photograph of Jaish e-Mohammad founder Masood Azhar in a collage with a gun-wielding picture of slain Kashmiri militant Fardeen Ahmad adorns the latter's two storey house in Tral, the epicentre of militancy in restive Jammu and Kashmir.
Fardeen (16) led the fidayeen (suicide) attack on a CRPF camp in South Kashmir's Lethpora on Sunday, killing five jawans.
The poster hails both Azhar and Ahmad as "tigers of Jaish," who have "taught the infidels a lesson."
This is not the only poster eulogising Tral's slain militants, including Hizbul Mujahideen commander Burhan Wani who was killed in 2016.
Numerous such posters appear even half a kilometer before one reaches house of Ghulam Mohiuddin Khanday, Fardeen's policeman father.
An uneasy calm envelopes the house that was observing the fourth day of mourning since his death (chahrum). Close friends and relatives of the bereaved family had gathered in the house offering condolences even as Fardeen's father was away for some work.
At what used to be Fardeen's study, mother Wazira was sitting with her slain son's twin brother Faizan.
Both the mother and the son could not point to any specific incident or a trigger that could have led the studios teenager becoming a suicide attacker.
"I used to be with him all throughout the day but there was no indication what so ever about his inclination towards militancy,'' said Faizan, who appeared class 10 exams, a month after his brother left home.
Both were studying in the same class in an English medium school in Tral.
"He did not miss a single class, his attendance was 100 percent till the day he disappeared,'' Wazira added. The distraught mother said "he used to be among the class toppers''. The mother, however, said Fardeen was an introvert – who did not share with his brother or friends what was going on in his mind.
According to the family, Wani's killing, which triggered unrest in 2016 leaving over 100 dead, did not affect Fardeen. "We had left Tral and went to our relative's place in Khrew,'' Faizan said.
His relatives said Fardeen showed no resistance against the state and was in fact, quite close to his father who serves as a head constable in the state police.
"He was another ordinary person like us, who would go to tuitions in the morning with his brother and just concentrate on his studies'', said a neighbour who did not want to be named.
Family members said Fardeen had no phone or access to internet and denied any knowledge of him being influenced by social media or any person. Wazira, however, said a slain Hizb militant Auqib Maulvi, who was killed in March last year had been his `Quran tutor'' before he joined Burhan Wani.
Both Burhan and Auqib appeared in several photos and videos that had been widely circulated on social media. Auqib, Fardeen's neighbour in Hyuna village had joined militancy sometime in 2013. Auqib had memorised the Quran and was teaching children of the locality.
While insisting that Fardeen showed no 'such inclinations', Wazira said, "He had understood the religion well. He would talk about Jahanum and Jannat and used to say that worldly life is nothing."
The only time Wazira said she saw the teenager showing any emotion was at the plight of Rohingya Muslims in Myanmmar . "He used to say that children are being snatched from their mothers' laps and burnt,'' she recalled.
They however insisted he had never even discussed Babri Masjid demolition or parliament attack convict Afzal Guru's hanging-- the events mentioned in the now infamous video Fardeen had shot before leading the attack on the CRPF camp in Lethpora.
Fardeen had gone missing on September 15 last year and nearly a month later, a picture of the missing teenager appeared on social media posing with an AK-47 rifle with 'Jaish-e-Mohammad' inscribed on the corner of the picture.
Speaking to Hindustan Times a senior police officer said that police had inputs that "Fardeen was inclined towards suicide missions."
"Jaish militant Noor Mohammad Tantry who was killed on December 26 was responsible for such level of indoctrination,'' he said.
The four-feet tall Tantray was killed in an encounter in Pulwama on December 26. Justifying Fardeen's action, the banned militant group had said he had volunteered himself for `the attack''.
"Fardeen was not given permission for the mission initially but he offered to snatch rifle from security forces to prove his caliber. It was his determination which forced us to let him participate in the mission,'' a Jaish statement reads.
Police officials believe that after being "shattered" by Tantray's death the minor militant became ``an easy pawn in the hands of his handlers''.