Parents of boy disappeared from Mysore in 2007 claim their son lodged in Pakistan jail
Updated on Apr 03, 2017 12:08 PM IST
They have now moved the Karnataka high court seeking repatriation of their son from Pakistan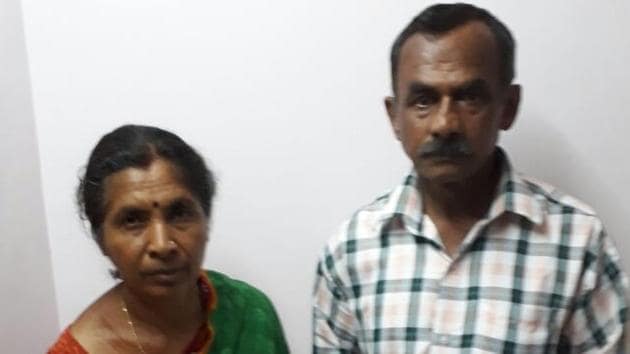 Hindustan Times, Bengaluru |
Sudipto Mondal
A decade-old case over sudden disappearance of a teenager from Mysore has taken a new twist with his parents claiming their son is held captive in a jail in Pakistan's Lahore.
A student of the Cauvery Polytechnic at Gonikoppal in Karnataka's Kodagu district, 18-year-old PK Yashwanth went missing in 2007 after he was sent to Mysore to attend "special classes" by the principal of the institute.
After running from police stations to offices of politicians in Karnataka and failing to meet Prime Minister Narendra Modi and external affairs minister Sushma Swaraj, the distraught parents have moved the Karnataka high court with a plea to repatriate their son.
The court in an interim order issued notices to the ministries of external and home affairs and the Indian high commission in Islamabad to file a report by April 16, detailing the efforts made to repatriate Yashwanth, if he is indeed the person his mother Meenakshi identifies as her son.
"I always knew that my son is alive. My faith was reinforced when I saw his photo in a newspaper last year," Meenakshi said.
The photo she was referring to was published in a local newspaper that carried a notice issued by the intelligence wing of the Karnataka police with pictures of Indians languishing in Pakistani prisons.
She said one of the pictures was that of her missing son.
"He had grown a mustache and looked like he had also put on weight. But those same eyes, the same nose…How could I missed them," she said.
The police, however, identified the man in the mug shot as Ramesh and not Yashwanth. Worse, there are at least half a dozen others who claim that the man in the picture is their missing relative.
But Meenakshi is not relenting. "I can identify my son anywhere. The police advertisement says Ramesh stammers. My son too stammers. They got the name wrong," she added.
Recollecting their ordeal, she said police was not showing any enthusiasm in the case from the beginning.
On April 24, 2007, just a few days after Meenakshi and her husband Kushalappa, both farmers, lodged a 'missing' complaint, they got a call from an unknown number, they said.
"It was my son. I couldn't make out what he was saying. But I recognised his voice. He hung up within a few seconds. That's the last time I heard from him," Meenakshi recalled.
She said police was immediately informed and one Mujahid, from his phone number the 2am- call was made, was detained.
But the police let him off saying they did not get any evidence against him to link him with the disappearance of their son, she added.
With her patience running out, she now wants to travel to Pakistan to meet her son.
"There are so many NGOs working for peace between India and Pakistan. Can one of them help me visit my son in Lahore jail?" she asks.
Personalise your news feed. Follow trending topics