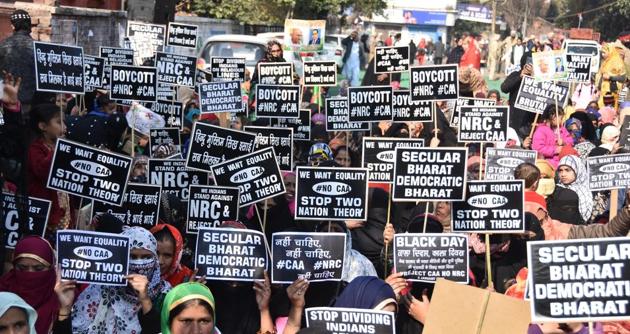 Popular Front of India mobilised money to finance anti-CAA protests, says ED note to MHA
Uttar Pradesh has written to the home ministry seeking a ban on PFI, and there are reports that Karnataka and Assam have followed suit.
Hindustan Times, New Delhi | By Neeraj Chauhan
UPDATED ON SEP 03, 2020 02:59 AM IST
The Enforcement Directorate (ED) has sent a note to the Union ministry of home affairs stating there is a link between protests against the contentious citizenship act in different parts of the country and the Popular Front of India (PFI), sources said on Monday, charges strongly condemned by the organisation.
According to the sources, the note shows several payments and withdrawals in various areas around the time of the protests in December last year and January.
"It has been noticed that Rs 1.04 crores were deposited in 15 bank accounts of PFI (10) and Rehab India Foundation (5) during the period starting from 04.12.2019 till 06.01.2020," a source said quoting from the document.
"The money trail has proved beyond doubt that PFI has mobilised the money to finance the cost of demonstration/gherao against CAA Bill till 06.01.2020. Further investigation to trace money trail from other bank accounts is continuing," the note said, according to the source.
They added that the names of some prominent people to whom payments have been made by PFI also been mentioned in the note.
Also Watch l CAA stir: UP govt blames PFI for violence, seeks ban on the Islamic outfit
'Charges will never be proved'
The PFI issued a point by point rebuttal to ED's note, saying the allegations that it funded the anti-CAA protest were baseless.
The organisation said the Enforcement Directorate has not contacted it nor has issued an official statement regarding these allegations.
"We are confident that the fate of these series of allegation will also be like the ones before which could never be proved," it said.
The organisation also responded to another allegation of transfer of funds its Kashmir Wing, saying it does not have any wing or branch in Jammu and Kashmir.
"We challenge the so called "Unnamed Sources" to prove that there is any wing of Popular Front working in Kashmir," it said.
On allegations that it transferred funds to senior advocates, PFI said it had only done so once in 2017 as fees to lawyers engaged to fight the Hadiya case and "openly declared it in various public meetings".
"This statement exposes the intention of the vested interested who are keen to blame Popular Front for everything that is happening in India... Attributing a fees transfer that happened in 2017 as a funding for 2019 CAA protest is totally absurd and exposes the intention to defame Popular Front."
It also rejected the allegations of the governments in Uttar Pradesh and Assam about the arrests of "our state-level leaders" in the anti-CAA protest-related violence.
Police in Uttar Pradesh had arrested around 25 PFI functionaries and activists for their alleged role in the violent anti-CAA protests in Meerut, Shamli, Muzzafarnagar and Lucknow on December 19. More than 20 people were killed during these protests.
"But their claims proved to be nothing but imaginations when they could not prove anything in the court and our leaders were released on bail," it said.
Union law minister Ravi Shankar Prasad had also said earlier in January PFI may have played a part in the violence surrounding some protests and that the Union home ministry will decide on the action to be taken against the organisation "based on evidence".
PFI's top leadership largely comes from Kerala and the organisation allegedly radicalises Muslims towards the ultra-conservative Salafi strain of Islam.
The organisation has rejected these allegations.
Close