Who is Shambu Lal Regar? A man who didn't seem capable of murder, say neighbours in Rajasthan
Dec 08, 2017 10:07 PM IST
Shambu Lal Regar, the Rajasthan man who uploaded a chilling video of himself hacking and burning a migrant worker, was engaged in marble business earlier but was unemployed for more than two years
In Regar mohalla, home to Shambu Lal Regar, the Rajasthan man who uploaded a chilling video of himself hacking and burning migrant worker Afrazul on Wednesday, most of his neighbours had no inkling that he was capable of committing such a crime.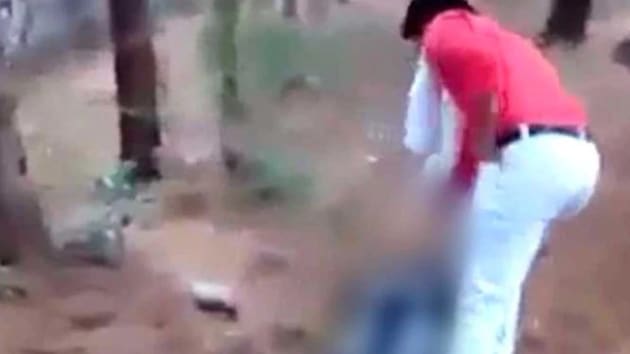 In the dusty locality with open drains, stray cows and abuzz with flies, the residents learnt about Shambhu's arrest from vernacular newspapers.
Stay tuned with breaking news on HT Channel on Facebook.
Join Now
"We had no idea he could do such a thing. We have known him for a long time and he didn't seem to be the kind of man who could murder someone," said Rakesh Kumar Regar who owns a pan shop.
By some accounts, Shambu is a disturbed man. He has a palm-sized tattoo on his chest of his 12-year-old mentally challenged daughter holding a globe in her hand, one of his neighbours, a middle-aged man in khaki jacket told HT.
"The daughter is mentally challenged and he knew that she wouldn't get married. He knew she will always live with him so he got her picture inked on his chest," said another neighbour, an elderly woman.
Shambhu's neighbours refused to be named when they talk about him.
The daughter is said to be very attached to Shambu and wouldn't leave him when he was home.
The child, one of Shambu's three kids, has been crying and vomiting since his arrest, the woman said.
"Shambhu used to get up early every day and go to Nauchauki lake to practice yoga for an hour," said one of Shambu's brother Nirmal Kumar Regar, who works as a lab technician at a clinic. Another brother named Lokesh, refused to talk.
Neighbours say that Shambu was engaged in marble business earlier but was unemployed for more than two years and his brothers supported him financially.
The elderly woman claimed that he even 'rescued' a young woman who had run away to Bengal with a Muslim man.
"He would roam about mostly. Sometimes he would come with sindoor (vermillion) on his forehead, at other times, it would be sandalwood paste. He had become a little eccentric since he brought the girl back from Bengal," the elderly woman said.
Anita Regar (named changed on request) had 'eloped' with one Mohd Babloo Sheikh to Bengal in 2010 when she was 13. She says the man used magic to influence her into going with him to Sayadpur village in Malda. She adds that the place where she lived was a dangerous place.
"They can kill people easily," she says. In 2012, Shambu volunteered to go and bring her back after her mother lamented that there was no one to bring her daughter back home.
"When he came there, I told him to go back and that I would return on my own. I came 15 days after his visit yet he took Rs 10,000 from my mother as a price for the 'rescue'," says Anita, who considers Shambu as a brother and ties rakhi on him every year. She works at a local beauty parlour and is enrolled for Class 12 as a private candidate.
The elder two sisters married, she has a mother and 15-year-old brother to look after.
Shambu's neighbours say that he was getting threats from Afrazul who also hailed from Malda's Sayadpur village because he had taken Anita away from a fellow Bengali. After he brought the girl back to Rajsamand, Bengali labourers had beaten him. Shambu fractured his hand in the attack, they claimed.
Shambu's wife did not talk to the media.