Rigged exams to mysterious deaths of suspects: What is MP's Vyapam scam
Updated on Oct 31, 2017 07:53 PM IST
More than 25 whistleblowers and witnesses have died since the scam was unearthed in 2013.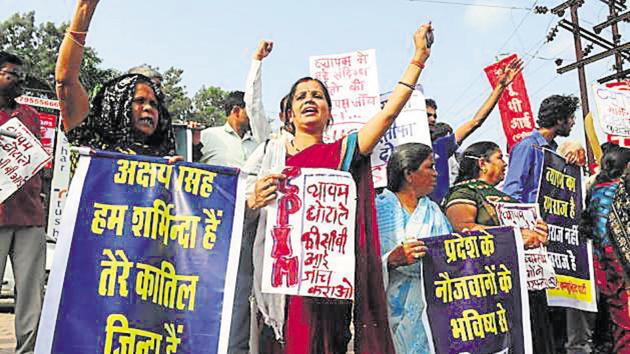 The CBI filed on Tuesday a chargesheet against 490 people in the Vyapam scam, a scandal that allegedly involved people paying bribes to get coveted government jobs and admissions to state-run medical colleges.
The Vyapam scam broke in 2013 after the Indore police arrested 20 people for impersonating candidates appearing for a professional examination. The arrests blew the lid off one of India's biggest scams as the scale of irregularities within the Madhya Pradesh Professional Examination Board (MPPEB) -- popularly known by its Hindi acronym "Vyapam" (Vyavsayik Pariksha Mandal) -- came to light.
More than 25 whistleblowers and witnesses have died since the scam was unearthed, but unofficial reports put the toll at 41. Other accused and witnesses say they have received death threats. The case was transferred to the CBI from the Madhya Pradesh special task force after a Supreme Court order in 2015.
Here's a closer look at the Vyapam scam:
What is the scam all about?
Vyapam is Madhya Pradesh's autonomous, self-financed body formed to conduct tests for professional examinations and government services. The organisation holds 21 exams on an average every year.
The scam allegedly involved an organised racket that allegedly rigged tests for admissions and recruitment to various courses and government jobs. Police say suspects employed imposters to write exam papers, manipulate sitting arrangements in exam halls and even supply forged answer sheets by bribing officials between 2012 and 2013.
How was the scam unearthed?
While investigating complaints of imposters in the Pre-entrance Medical Test (PMT), Indore Police stumbled upon multiple rackets that committed large-scale fraud in MPPEB examinations for years.
Among the tests rigged were the PMT 2008-13, Pre-PG test for postgraduate medical courses 2012, and recruitment exams for contract teachers, food inspectors, police constables and Ayurvedic medical officers.
How many were affected?
As many as 1,087 ineligible students got admission in medical colleges from 2008 to 2013. Their admissions were cancelled. Thousands of candidates who appeared in the rigged tests were also affected.
The modus operandi
Several gangs operated with the connivance of MPPEB officials to manipulate sitting arrangements in examination halls and to fill optical mark recognition answer-sheets. While the rate started from Rs 15 lakh for the PMT, it was more than Rs 50 lakh for admission in PG (Medical).
The investigation
The investigation was handed over to the Special Task Force (STF) of the state police. The high court monitored the STF's investigation directly through a Special Investigating Team after a pitched Opposition campaigned against the state government for allegedly going slow in the probe.
Separate cases have been registered for investigating scams in different tests. In March 2015, the SIT told the Supreme Court it had arrested approximately 1,800 accused and was on the lookout for another 800 people.
In July 2015, the Supreme Court transferred the case to the Central Bureau of Investigation.
Who are the top accused?
Former education minister Laxmikant Sharma was jailed for fraud in the contract teachers recruitment test. His former officer on special duty (OSD) OP Shukla and former PA Sudhir Sharma are also behind bars.
Shukla was charged with taking Rs 85 lakh from suspended officials of the PEB –- director and controller of tests Pankaj Trivedi and principal systems analyst Nitin Mahindra -– for getting candidates selected.
Dhanraj Yadav, former OSD to governor, was arrested for his alleged involvement in the recruitment of a large number of candidates through his links with suspended PEB officials.
DIG RK Shivhare, a suspended IPS officer, was arrested for allegedly getting candidates selected in the sub-inspectors recruitment test. His daughter and son-in-law were allegedly involved in fraudulently cracking the pre-PG (medical) entrance test.
Governor Ram Naresh Yadav was booked for allegedly accepting bribes from five people for recruiting them as forest guards but the high court later quashed the FIR in view of his constitutional position. Yadav's son Shailesh, who was also named as an accused, was found dead mysteriously at his father's official residence on March 25, 2015. Yadav died over a year later, in November 2016.
It's not immediately clear if these people are named in CBI's chargesheet against 490 people in the scam.