SHe-box to the rescue of govt's women employees facing sexual harassment at work
Jul 24, 2017 04:27 PM IST
An online complaint box is expected to help women in government organisations to lodge grievances about sexual harassment at work.
Help is now a mouse-click away for the government's women employees who face sexual harassment at work.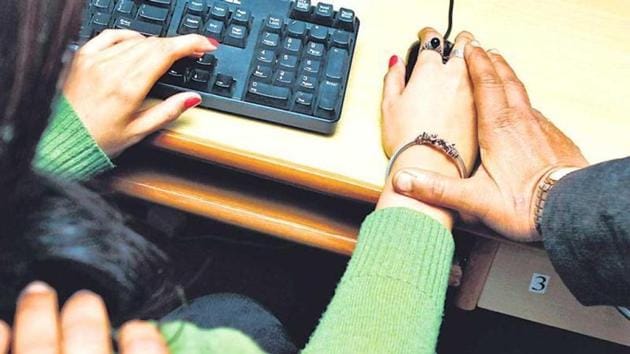 The Union women and child development (WCD) ministry on Monday launched "SHe-box" – an online complaint box -- that will be hosted at the ministry's website (www.wcd.nic.in), where any woman employee who faces sexual harassment or abuse at work, can log in and report an incident.
Launching the portal, WCD minister Maneka Gandhi said that her ministry will soon start a national survey to assess the nature and magnitude of sexual harassments at workplace across the country.
"Once a complaint is registered, we will forward it to the ministry/department where the woman works. We will also follow it up with the respective ministry as to what action has been initiated," said a senior WCD ministry official.
Officials said that need to set up the SHe-box was necessitated as the WCD ministry was getting numerous complaints from women employees ruing the delay in investigation of such cases.
"Also many women are hesitant to come forward and complain against a colleague/senior where she is working. SHe-box provides anonymity to complainants," said a ministry official.
Though the Parliament cleared the Sexual Harassment of Women at Workplace (Prevention, Prohibition and Redressal) Act in February 2013, its implementation has been patchy so far.
Many organisations – both in government and private sector -- are yet to set up a fully functional internal complaints committee (ICC) to handle sexual harassment related grievances, a mandatory requirement under the law.
"We keep asking government organisations and private sector to send us report on whether ICCC are functional and how many complaints have been filed and disposed off. The response has been not so good and compliance is limited," said a WCD ministry official.
At present, there is no centralized mechanism to collect data on how many complaints have been registered and disposed off under the Act. The National Crime Records Bureau (NCRB) started collecting data since 2014 under the category of insult to the modesty of women (section 509 of IPC) at office premises.
In 2015 (the latest year for which figures are available), the National Crime Records Bureau registered 119 cases and charge sheeted 71 people. Five were convicted during 2015.