Shot of life: saving vaccination drive from rumours and fake news
May 19, 2018 08:30 AM IST
Fake news alerts spread rumours that MR vaccine is a Modi govt and RSS conspiracy to stop the population growth of Muslims.
A television expose on baseless rumours has been doctored and turned into a fake news clip that has been threatening the health and lives of thousands of children.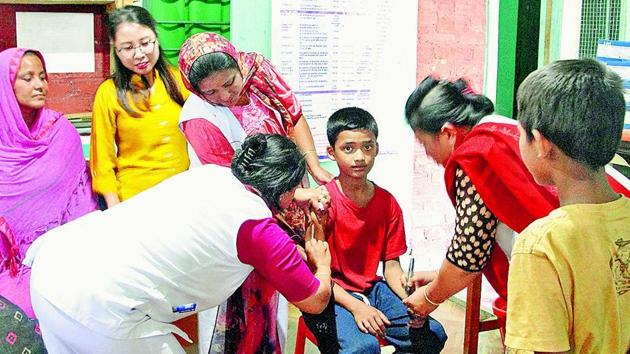 ABP News rumour-busting show, "Viral Sach: Is there an injection to turn Muslims impotent?" has been edited from its original 15.52 minutes to a 2.48- to 3.01-minute clip that propagates the very falsehood it had set out to prove wrong--that the globally-banned MR-VAC vaccine against measles and rubella (German measles) was a Modi government-RSS conspiracy to stop the population growth of Muslims.
Stay tuned with breaking news on HT Channel on Facebook.
Join Now
"The idea of the show is to expose fake news and if it is being misused to spread rumours, it is wrong. I haven't heard about it but if misuse is happening, we will report the truth again," said Milind Khandekar, managing editor, ABP News.
Fake alerts, which included texts, audio and video clips, claiming that the vaccine is unsafe, first surfaced when India launched one of the world's largest vaccination campaigns against measles and rubella on February 5, 2017, in Tamil Nadu, Karnataka, Puducherry, Lakshwadeep and Goa. Within a week, these generic rumours claiming a banned vaccine that affected a child's memory and learning capacity was being pushed in India at the behest of foreign pharma companies, were replaced by rumours targeting the Muslim population.
Since then, the clip has been spreading like wildfire ahead of MR vaccination campaigns across India, in states as geographically and culturally diverse as Lakshwadeep, Kerala, Punjab and Manipur. Driven by the fake news, vaccine coverage has been low in states with a high Muslim population: 77.2% in Laskhwadeep (96.58% Muslim population), 84.6% in Kerala (26.56% Muslims), and 87.92% in Manipur (8.32% Muslims), as on May 14.
The fake news clip reached Manipur before the vaccines and syringes did. "The health ministry's IEC (information, education, communication) materials reached Manipur on March 25, but people started sharing the newsclip in October last year," said Dr T H Nandkishwor, state surveillance officer, Manipur. "The clip was made to create trouble and it did. This is the first time we are seeing refusal in the state, there was no trouble during polio vaccination or routine immunisation," said Nandkishwor.
A video of the burial of a child falsely claiming it was a vaccine-related death also went viral even though a probe showed the death was unrelated to vaccination. "The child died four weeks after vaccination, when anaphylactic shock (extreme allergic reaction) sets in within 30 minutes, but the allegation slowed the programme. Though we have extended the deadline, refusal is high," said Haobam Rosita, deputy commissioner, Thoubal, a district neighbouring Imphal.
The state, however, quickly put together an effective response. "The resistance to the vaccine in the first round was unexpected but now we're stronger on social media with messages countering the rumours and reinforcing positive messaging from persons trusted in the community. That strategy has helped increase coverage in the second and third rounds," said Dr Yasmin Ali Haque, Unicef Representative in India. Unicef and World Health Organisation are offering technical and surveillance support to the campaign.
Working closely with religious and community leaders to build trust, helped. "Apart from using radio, television, poster, text messages and social media to urge people to vaccinate, we had several meetings with community, religious leaders, schools and aganwadi workers in places where there were pockets of refusal," said Dr Nandkishwor.
Muslims comprise 93.31% of the population in Lilong town in Thoubal district that has an overall Muslim population of 25.42%. Vaccination coverage in the town went up 15 percentage points over the past two weeks to 78%, because of the tireless efforts of community leaders.
Imams made announcements during Friday prayers and madrasas were brought on board. Darul Uloom (Markaz) Haoreibi, a madrasa in Lilong, is home to 463 boys between the ages of nine and 20 years. Only 16 of the 151 boys, aged 15 years and below are yet to be vaccinated. "The only children left are those who had gone home from the hostel, I will make sure they get vaccinated," said assistant rector Maulana Mohammad Muheiyuddin Mazahiri.
There is reason for his confidence. Along with many others, he also received the doctored video. "Everyone had the video, so I went online to read about the vaccine. I found it was safe and made in India. I next met doctors and went to the government store and saw the vaccine to verify whether there were separate vaccines for Hindus and Muslims, as alleged. I found it to be untrue. I even wrote to Darul Uloom Deoband asking whether vaccination should be done and they said yes, it was safe," said Mazahiri.
He was convinced, but convincing parents was not easy. "People were initially so scared that they made their children miss school on the day vaccination was happening," he said. Mazahiri took a sample of the vaccine and syringe and made short videos showing how it worked, which he sent to religious groups and parents. "I told them, you ask a mechanic about cars, a teacher about education, and a doctor about medicine. If you trust doctors for other illnesses, why not for this?," he said. "When the imam or maulanas say something, they listen. People hardly listen to us," said N G Jayata, chief medical officer, primary health centre in Kwakta, Bishnupur.
Mazahari got support from other community leaders, such as Dr Syed Burhan-uddin, chairperson, Manipur State Minorities Commission, who has "served" in Mecca as a medical officer for 25 years. "I tell people that everyone going for Hajj to Mecca and Madina needs to get vaccinated, Saudi Arabia insists on it. People don't get a visa without it. This vaccine is safe and protects our children, we must say yes to it," said Burhan-uddin, who also held a press conference for the local media to spread the message.
Medical professionals are doing their bit. Dr Anees Begum, a medical officer in Keirao in Imphal east, got her three children, ages 3, 5 and 7, vaccinated at schools before teachers and students to demonstrate that the vaccine was safe. Staff nurse Ranjana and auxiliary nurse midwife (village health worker) Tasleema from the PHC in Kwakta in Bishnupur visit remote villages to vaccinate missed children on their weekends off.
A paramyxovirus virus that spreads through air and direct contact cause measles, with symptoms of high fever that lasts four days to a week, runny nose, cough, watery eyes and rash. With 47,000 measles deaths, India accounts for close to one-third of the world's 134,200 deaths from the disease, according to the World Health Organisation (WHO).
"If vaccination coverage is more than 95%, not only are the vaccinated protected but also those who have been missed because mass coverage builds herd immunity in the community by lowering the virus from the environment," said Dr Haque. Vaccination has helped eliminate (absence of continuous transmission for 12 months) measles in the Americas, 33 countries in Europe, and in neighbouring Bhutan and Maldives. With vaccination, India can do it too.