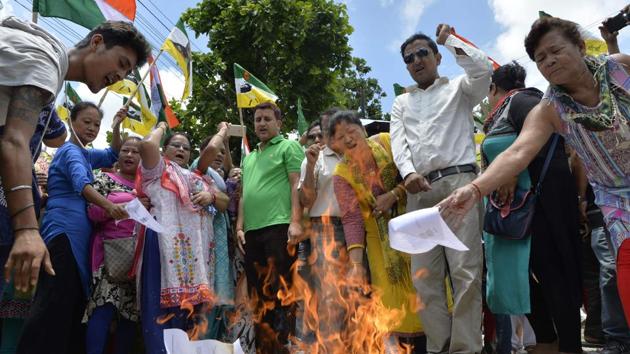 Statehood volcanoes may erupt in northeast India if Gorkhaland becomes reality
If a Gorkhaland state comes into being it can potentially fuel at least eight statehood demands across the northeast.
UPDATED ON JUL 05, 2017 01:15 PM IST
Leaders of at least eight statehood movements, some dormant, in the Northeast see the Gorkhaland stir as a source of fuel for their self-rule battles.
The Northeast has eight states, and three of them – Meghalaya, Mizoram and Nagaland – were carved out of Assam after statehood movements.
If Gorkhaland becomes a reality, the region could have eight more states, the strongest movement for which is Bodoland comprising areas of western and north-central Assam.
These areas are inhabited by the Bodos, the largest plains tribe of the region.
Assam is facing two more statehood movements, one by the Karbi tribe for Karbi Anglong state and the other for Dimaraji by the Dimasa tribe. The two tribes inhabit three hill districts of central Assam.
Another movement by the Koch-Rajbongshi community for Kamatapur state straddles Assam and West Bengal. The proposed map of Kamatapur covers much of areas demanded for Gorkhaland and Bodoland.
"If language can be the basis of creation of states across India, the Bodos with a distinct language deserve a state for which they have been fighting since 1967. There is no reason to deny us a state," Pramod Boro, president of the All Bodo Students' Union, told HT.
According to the 2011 census, there are almost 2 million Bodos in Assam, which is 5.5% of the state's population of 31.2 million.
Read more: Assam's Bodoland demand group supports Gorkhaland movement
"No one deserves a state more than us, and there is historical evidence of Koch-Rajbongshis ruling over large swathes of present-day Assam and West Bengal," Pradip Ray, president of Assam Koch Rajbongshi Students' Union (AKRSU), said.
The AKSRU has been periodically imposing shutdowns in Assam to demand Kamatapur state for about 14 million Koch-Rajbongshis across Assam and West Bengal.
The movements of Karbi Anglong and Dimaraji states – the Bharatiya Janata Party rules the tribal councils that cover these areas – have been on the backburner for some time. So have been a few others such as demand for carving out Eastern Nagaland state from Nagaland and Kukiland from Manipur.
The creation of seven new districts, reportedly to appease the Kuki-Zomi tribes, in Manipur last year is believed to have put the Kukiland demand in cold storage.
The Garoland movement in Meghalaya, on the other hand, has been intermittent. But the Garo Hills State Movement Committee (GHSMC) has indicated it is waiting for Gorkhaland to intensify its demand.
The proposed Garoland covers five districts and 24 of Meghalaya's 60 assembly seats. "The movement is to safeguard the identity of the Garos, who are often deprived of their rights," GHSMC leader Augustine Marak had said some time ago.
Gorkhaland could also impact the demand for Twipraland, a state for indigenous tribal groups, in Tripura. This statehood demand had witnessed violence in August last year.
Close