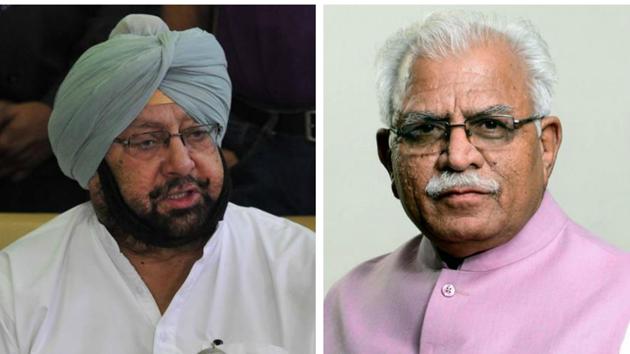 SYL: PM Narendra Modi calls meeting of Punjab, Haryana CMs
Punjab reiterated its contention that there is no surplus water in the river to share with Haryana.
UPDATED ON JUL 11, 2017 04:40 PM IST
Prime Minister Narendra Modi has called a meeting of chief ministers of Punjab and Haryana to reach a negotiated settlement of SYL Canal issue, Centre told the Supreme Court, which on Tuesday asked the two states to ensure there are no protests over the dispute till the matter is pending before it.
"How can there be any agitation when the matter is pending before this court?" a bench headed by Justice Dipak Misra wondered after Punjab's advocate general Atul Nanda submitted that a political party in Haryana was agitating on the issue and preventing vehicles with Punjab numbers from entering Haryana. "Whenever proceedings are pending in this court, there cannot be any agitation by the citizens."
On learning about the negotiations, the bench adjourned the hearing to September 7. But it expressed concern over Punjab's reluctance to execute the SC's 2016 verdict directing the construction of the SYL canal meant to supply surplus of Ravi-Beas waters.
"Why are you so reluctant to implement it (order)? We cannot understand what implications would arise if you construct the canal. The decree is for construction of canal by both the states," the bench told Punjab. Haryana informed the court that it has completed its share of the work.
Punjab reiterated its contention that there is no surplus water in the river to share with Haryana. The decree, it said, was premised on the fact that there was enough water in the river.
To this the bench said: "How much water should be shared can be decided later. At least construct the canal first."
At the outset, Attorney General KK Vengopal asked for two months time to arrive at a negotiated settlement of the vexed problem. He said the portion of canal in Haryana was complete and it was only the Punjab part that remained pending.
"Two of the engineers who went to start the work on the SYL Canal in Punjab were shot and killed," Venugopal said. The court asked counsel for both Punjab and Haryana to inform the authorities to maintain law and order in the state.
Haryana, however, demanded immediate implementation of the decree. "How long we will have to wait," senior advocate Shyam Divan asked the court.
Close