After life without thepla, Gujarati chef for Congress MLAs at Bengaluru resort
Updated on Aug 07, 2017 03:13 PM IST
MLA says as Gujaratis, the group is not used to the rice-heavy cuisine offered to them at the Karnataka resort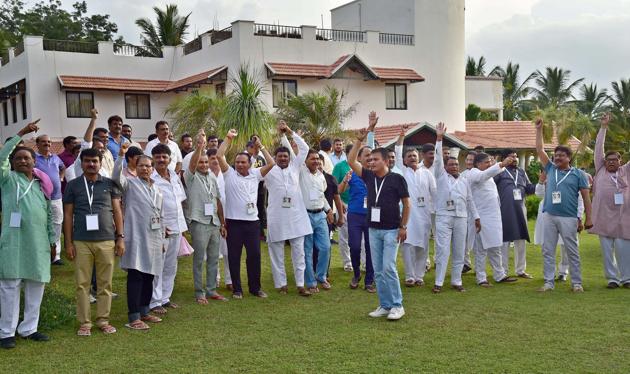 Gujarat Congress MLAs lodged in a Karnataka resort to deter defections from their ranks ahead of next week's Rajya Sabha polls say the south Indian food being served to them is a big sore point amid their four-star comfort.
"All the arrangements are great. But there is bound to be a difference in cuisine," Gyasuddin Shaikh, one of the 42 legislators, told Hindustan Times on Tuesday. "We Gujaratis have food that is not very spicy. We like roti, dal and kadhi, so there is a change," he regretted.
Reluctant to leave anything to chance before the August 8 vote which has senior Congress leader Ahmed Patel vying for one of the three Rajya Sabha seats from Gujarat, the party leadership has decided to arrange for a Gujarati chef for the legislators' culinary comfort.
DK Shivakumar, the power minister in Karnataka's Congress government, said a Gujarati chef will be made available for the MLAs soon. "Some have even expressed the desire to cook and asked the resort for permission, which has been granted," he added.
A nostalgic Shaikh said a typical breakfast back home in Gujarat consisted of 'bhakhri' and 'thepla'. Lunch normally consisted of dal, roti and a dry vegetable dish.
However, breakfast at 'Eagleton - The Golf Village', some 40km outside the state capital Bengaluru, typically comprised idli and dosa while the menu for lunch mostly included rice or ragi balls.
"In Gujarat, we are not used to consuming much rice. We prefer roti," Shaikh explained.
The Congress legislators were flown to Bengaluru late on Friday after six of their colleagues quit the party, depleting its numerical strength in the Gujarat assembly to 51.
At least half-a-dozen of the remaining legislators are reportedly loyalists of Shankersinh Vaghela, a former chief minister recently expelled from the party. Patel needs the support of 45 MLAs to be re-elected and the Congress is doing everything it can to keep its flock together.
On Saturday, the Congress moved the chief election commissioner, accusing the BJP government of Gujarat of using "money, muscle power and government machinery" to engineer defections. The BJP has denied all the charges.
Close Story
Personalise your news feed. Follow trending topics