Jallikattu: Bull gores spectator; 26 injured in Madurai
Kalimuthu suffered serious injuries when a bull attacked him during a Jallikattu event in Madurai.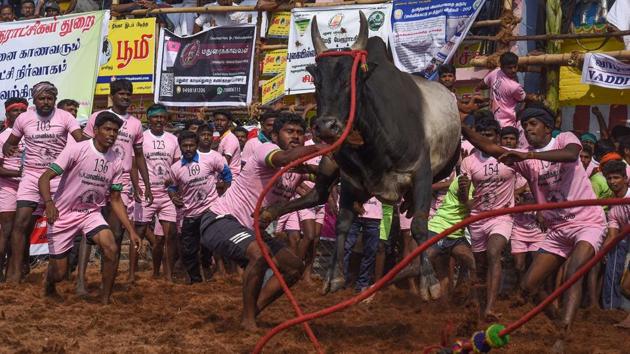 Updated on Jan 15, 2018 11:49 PM IST
Tragedy struck Jallikattu celebrations at Palamedu village in Tamil Nadu's Madurai district on Monday, after a bull gored one person to death and injured 26 people.
Despite foolproof arrangements, some spectators came in the way of a running bull near the collection point, nearly half a kilometre from the playing area, and were injured.
S Kalimuthu (19), a spectator, succumbed to injuries at a government hospital in Madurai. He hailed from Sanarpatti village of Dindigul district.
Another person who suffered serious injuries was among the six admitted to the hospital, according to the police inspector Palamedu who was investigating the case.
He said from Palamedu police station that he had received a complaint from the mother of the deceased and was investigating.
P Rajasekharan, president, TN Jallikattu Peravai, said that after discussing with the government officials and the police, the association will try and extend some financial help to the family of the deceased.
"It was an unfortunate incident that should not have taken place," said K Veera Raghava Rao, Madurai collector.
"But it must be kept in mind that the incident happened far away from the playing area, where double barricading was in place and the number of players were strictly regulated. Which is why there have been no cases of serious injuries or deaths in the playing area," he said.
The collector also partly blamed the spectators who gathered near the bull collection point, where the owners of the bulls collect their bulls after their run.
It was here that a bull charged towards a crowd and injured some people. Kalimuthu was looking at another bull and did not notice this bull that was charging at him and was gored, said Rajasekharan quoting eye-witnesses, adding that he was not present when the incident took place.
On Monday, as against the 1,000 bulls that were given tokens, only 458 could be released owing to paucity of time. The event began at 8.30 am and was declared closed at 3.15 pm. Among those present at the inauguration of the event was revenue minister RV Udayakumar.
Jallikattu, a traditional bull taming sport, is played as part of Pongal festivities in Tamil Nadu. As per the rules, a bull tamer will be awarded a prize if he hangs on to the hump of the animal for a certain period of time.
Close Story
Personalise your news feed. Follow trending topics