Musa quits Hizbul after group dismisses his threat to behead Hurriyat leaders
Updated on May 14, 2017 12:16 AM IST
Zakir Musa, who took over the Hizbul Mujahideen after the killing of Burhan Wani in July last year, has announced he will not be associated with the group from Saturday onwards.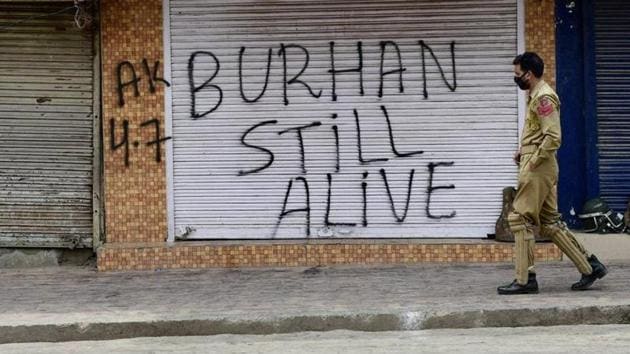 Hindustan Times, Srinagar |
Toufiq Rashid and Abhishek Saha
Radical militant leader Zakir Musa on Saturday severed ties with the Hizbul Mujahideen, hours after the outfit trashed his threat to behead separatist Hurriyat leaders, a development which could potentially impact militancy in Kashmir.
India's blames Pakistan of stoking militancy in Kashmir but Musa's decision signalled serious differences among homegrown militants in the valley and the outfit's leadership, based in Pakistan-occupied Kashmir.
Musa said the armed insurgency – which has claimed the lives of thousands over civilian and security forces since 1989 -- was aimed at creation of an "Islamic Kashmir".
"...If Hizbul Mujahideen doesn't represent me, then I also don't represent them. From today onwards, I have no association with Hizbul Mujahideen," Musa said in an audiovisual statement on Saturday.
"...Our intention should be that, we have to achieve 'azadi' to establish Islamic rule and not for secular state. If we are fighting for secular state then my blood won't be spilled for that purpose."
HT could not independently verify the authenticity of the video montage overlaid with Zakir's message.
The statement came within days of suspected Hizbul Mujahideen militants gunning down Indian army officer Ummer Fayaz in Shopian, the latest incident in the armed insurgency that has killed thousands of civilians and security personnel in Kashmir since 1989.
Security agencies said any impact of Musa's decision – seen as a virtual split in the outfit – will depend on how many militants join him.
Musa is believed to be heading the HM's operations in Kashmir after the killing of the outfit's commander Burhan Wani by security forces last year, that had sparked months-long street protests in Kashmir.
Official sources said the organisation in Kashmir operates very losely in small groups of five to seven people without much of a central command.
The rift surfaced on Friday after Musa had called the leaders of the Hurriyat Conference "hypocrites, infidels, followers of evil" and threataned to chop off their heads "if they create hurdles in the path of making Kashmir an Islamic State".
He said their heads will be hanged in Srinagar's Lal Chowk, which has emerged as the epicentre of anti-India protests.
Hurriyat leaders, including hardliner Syed Ali Shah Geelani and moderates Mirwaiz Umar Farooq and Yasin Malik, recently denounced Islamist organisations such as the ISIS and al Qaeda, saying they had no role in Kashmir.
Earlier on Saturday, Hizbul Mujahideen spokesman Saleem Hashmi said the "militant organisation does not subscribe to (Musa's) statement".
"Such a statement is unacceptable to us. It reflects the personal opinion of Zakir Musa. Post Burhan Wani's martyrdom, the nation and the leadership are united at every front and taking ahead the struggle for freedom and Islam to its end," Hashmi said in the statement emailed to a Srinagar-based news agency.
Analysts said separatists in Kashmir have always disassociated themselves from radical Islamist groups, mainly to maintain legitimacy as a political struggle that carried Kashmiris' support.
"Not only in the current geo-political situation, Kashmiri separatists have always distanced themselves from radicalised hardliners and groups such ss the ISIS and al-Qeada," said senior journalist Sheikh Mushtaq.
Even incidents of waving ISIS flags in Kashmir was aimed at riling the government, police said.
Police officials, however, said the pattern of violence on the ground might change.
"He (Musa) represents the rabid element in militancy, he wants justification for robberies, civilian killings which he wants to find in radicalisation," said an official, who did not want to be named.
The state director general of police SP Vaid said that he "foresees a split" in militant ranks
"It seems there is difference of opinion in the Hizb, let's wait and watch what happens."
The HM had split earlier in 2002 when a senior leader, Abdul Majid Dar, formed a splinter group after he was expelled from the group. Dar's outfit faded away over the course of time.