Furore after VHP leader Togadia warns Muslims against buying properties in 'Hindu areas'
The Sangh Parivar leader allegedly threatens Muslims in Bhavnagar, Gujarat, for buying properties in Hindu areas. BJP denies that Togadia made such a statement and says the VHP leader said would take "legal action" against the media report. Poll: Should legal action be taken against Pravin Togadia?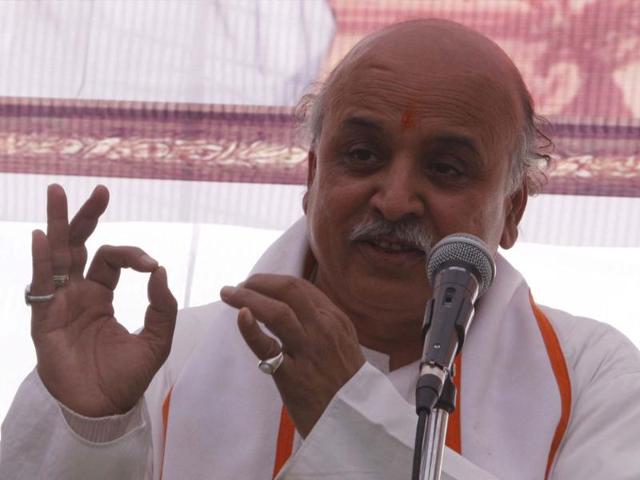 Updated on Apr 21, 2014 05:25 PM IST
Vishwa Hindu Parishad (VHP) president Pravin Togadia is facing severe criticism on social network site Twitter for allegedly delivering a hate speech against Muslims in Bhavnagar, Gujarat.
According to a report in The Times of India, Togadia on Saturday targeted Muslims buying properties in Hindu areas. He later joined a street protest outside a house bought by a Muslim businessman near Meghani Circle.
In the politically charged atmosphere where the issues of communalism and hate speeches have triggered a big debate, the leader of saffron outfit VHP also reportedly gave a 48-hour ultimatum to the businessman and directed a gathering to attack the house if he did not "relent".
Expressing his angst over the incident, journalist Rahul Pandita tweeted, "If Togadia's speech does not qualify for legal action, I don't know what else does!"
Barkha Dutt, another top journalist, took potshots at Togadia by tweeting, "Why doesn't someone do us all a favour and "evict" Praveen Togadia instead?"
Twitter handle @rameshsrivats wrote on the micro-blogging site, "If Togadia has his way the whole country will be divided into Hindu areas, Muslim areas, and so on. Our society will become an Area Samaj."
BJP spokesperson Prakash Javadekar, however, denied that Togadia had made the statement and said the VHP leader said would take "legal action" against organisations for the report.
Here is how Twitter reacted to the controversy:
Close Story